Ingenico debuts contactless payments in Ukraine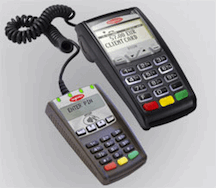 Ingenico has delivered contactless payment technology in the Ukraine.
PrivatBank, the Ukraine's largest commercial bank, is now issuing MasterCard PayPass contactless payment cards, which can be to make tap and go payments at retailers equipped with Ingenico's iCT220 and iPP220 terminals (pictured).
According to Ingenico, the first live contactless transaction was performed on Nov. 1 at a retailer in Kiev using Ingenico's iPP terminal.
E-payment software developer JSC "Bancomzvjazok" provided Ingenico with the contactless application for the roll out, and the partners say they have achieved "significant success" in distributing the solution so far.