Innovative Card Technologies announces 11 deployments of ICT DisplayCard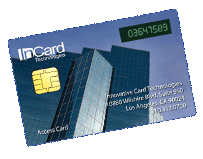 Commercialization of first-to-market ICT DisplayCard, a wafer-thin, one-time-passcode card for dual-factor authentication, to be spotlighted at security industry's premier forum, the RSA Conference and Expo
Innovative Card Technologies' DisplayCard, a security device for e-banking, e-commerce and data access, is being deployed by 11 leading financial institutions and enterprises in the U.S. and internationally. Five of the deployments are currently live, with six in production for distribution to consumers in Q2 2008.
The ICT DisplayCard is in the hands of consumers to authenticate online banking, online brokerage, ATM and phone transactions at four financial institutions. Orders for three additional bank deployments are currently in production, for card distribution in Q2 2008.
The ICT DisplayCard has been deployed for internal data systems login and VPN access authentication at one enterprise institution to date, with cards for another three enterprise deployments in production for delivery to customers in Q2 2008. This commercialization progress will be highlighted at the RSA Conference 2008, at the Moscone Center in San Francisco, April 7-11.
This is the company's second year exhibiting at the RSA Conference. In addition to its corporate exhibition booth (#2351), the ICT DisplayCard will be featured by two of the top authentication and security organizations in the industry. In ActivIdentity's booth, the one-time-passcode Smart DisplayCard with a PKI chip will be showcased as a hardware authenticator integrated into ActivIdentity's 4TRESS Authentication Server. VeriSign will feature custom-branded ICT DisplayCards as an integrated hardware authenticator for its VeriSign Identity Protection Authentication Service. Innovative Card Technologies, a Coordinating Member of the Initiative for Open AuTHentication, will also showcase the ICT DisplayCard in the OATH partner pavilion.