Innovative portable access control system purchased by Ohio community to secure future disaster sites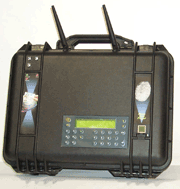 Department of Homeland Security money is starting to filter down to cities and counties in the U.S. as evidenced by one Ohio city's recent purchase of a sophisticated system from SuperCom Ltd. that can control access to facilities or disaster sites.
According to SuperCom's chief operating officer, Lawrence Shertz, the purchase of SuperCom's Smart Disaster Site Management System (SmartDSMS) was made by a local homeland security group called the Terrorist Advisory Team, covering the 15-county area around Columbus. The SuperCom system will be headquartered in Columbus and will be available to first responder emergency personnel when access to a disaster site needs to be closely monitored. The system meets the requirements of Homeland Security Presidential Directive (HSPD) 5 and 8 for management of domestic incidents and national preparedness.
A key component of that system is SuperCom's DynaGate technology. Mr. Shertz calls DynaGate "a mobile access control terminal. Much like the engine of a car, you can put it in another vehicle. What we've done is ruggedized it. It's encased in a rugged exterior so it can be used in fairly harsh environments."
Despite its name, it isn't an actual gate. Its purpose is to regulate access by comparing a person's name against a "white list" of people allowed to enter, or a "blacklist" of those who are barred from entry. The person's information is usually contained on a contactless card. The system is also capable of handling biometrics, such as fingerprints.
While it can control a gate–it can be wired in such a way that when the card is approved, a gate opens up–its primary purpose would be to control access with or without a physical gate. One of the ports in Miami, Florida uses DynaGate connected to a physical, manned gate to control access to one of its facilities, said Mr. Shertz.
How Dynagate could save lives …
To provide an idea of how the solution might be used, imagine a disaster has occurred in community that has access to a Dynagate system. Immediately upon learning of the situation, the portable Dynagate is delivered to the location. A series of tripods with mounted antennas are erected at the perimeter of the scene and connected to the portable access monitoring system (within the ruggedized 'suitcase'). Approved emergency personnel, who have been pre-registered into the system as well as those that are registered onsite, authenticate themselves to the system on entry and/or exit. This can be done using a contactless card or token, a biometric, a PIN, or some combination of these items.
The benefits of such a system include: the speed and ease of deployment across a wide area; reusability of the system; the security provided by restricting access to the danger zone; and the improved worker-safety that comes from being able to know who has entered, exited, and remains within a disaster zone.
The solution could be used effectively for both manmade disasters (e.g. terrorist attacks, chemical spills, airline crashes) as well as natural disasters (e.g. hurricanes, tornadoes, floods).
How was the system developed?
"The roots of DynaGate come from education," said Mr. Shertz. "We created it to have it installed at the front gate to a school, or a stadium, or on a bus. One of the earliest commercial solutions we offered was tracking students from the time they got on the bus until they got off the bus. Called EduGate, it evolved from there because it was a versatile device and it was rugged."
But comparisons end there. The system going in at Columbus is "more of an industrial strength communications infrastructure; it can go further and it can penetrate obstacles," said Mr. Shertz.
Data can be stored locally in the device's system memory. In other words, a connection to the host computer, which can be up to two miles away, isn't needed. New information can be input at the site and, if there is a connection, all the other access sites are updated automatically. Otherwise, once a connection is made, updated data is transferred to the host computer, explained Mr. Shertz.
"There are no substantial demands for a (specialized) host computer. A PC is okay for our needs," said Mr. Shertz. "Even the communications are powered by a battery. The system requires no infrastructure, all you need is a generator to charge the batteries as necessary."
Line of sight also isn't a priority. "We added a repeater, which extends the connectivity around obstacles," said Mr. Shertz. He explained a repeater's functions: "Think of your wireless connectivity as a cloud. It (the repeater) extends the cloud; There is no direct line of contact. What we will do is put up a repeater that can see the command center. It also has a near line of sight with the DynaGate, which acts as a switchboard."
He added: "Everything is self-contained in a small suitcase, a little bit bigger than a laptop, but twice as thick," he said. That would be the terminal, but it also comes with a tripod and communication gear. "Basically, you stick the antennal on a tripod, plug it into a battery and you're ready to go."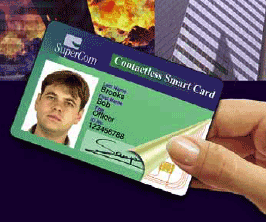 Authenticating users to the system
The system also uses a contactless reader. "We can offer a biometric option if the application requires it. We can get a fairly reliable authentication. DynaGate also has the option for a keypad. A person presents their card, enters a pin number and presents their fingerprint. We can cover all three levels," added Mr. Shertz.
In the Columbus project, about 3,000 first responder emergency personnel will be credentialed, said Mr. Shertz. "We also sold them, as part of the solution, an onsite enrollment station where others could be registered. They could be credentialed on site very quickly. The system is in realtime. As soon as someone is enrolled, all the terminals will be aware of that individual."
DynaGate was developed over a period of five or six months in 2002. "We have been in access control for many years. It wasn't a huge jump for us. We just put things we already knew into a ruggedized package," said Mr. Shertz.
The system is usually sold through SuperCom's channel partners. For instance, in the Columbus, Ohio case, SuperCom's distributor, Identiphoto Company, Ltd. instrumented the sale to the city. "The street price is about $6,000 to $10,000 depending on features," said Mr. Shertz.
He said one construction company uses it to keep track of construction personnel on different sites. "It's a very interesting application. This company records personal emergency contact information on the card so that if there's an accident, and the person cannot speak, the card can be read so emergency personnel would know of any allergies, blood type, etc."
SuperCom sees this latest purchase as the opening of a floodgate because of the release of the DHS money. "With Homeland Security budgets finally available on a city and county level, demand is rising for a variety of intelligent security systems," commented SuperCom's CEO, Avi Schechter. "This sale demonstrates that our…DynaGate-based solution…is ideal for this significant and growing market."
SuperCom was founded in 1988 as a private company and in 1999 went public. Its stock is currently traded on Euronext and also as an over the counter stock on the U.S. NASDAQ exchange, said Mr. Shertz.
.
Headquartered in Israel, SuperCom has subsidiaries in the US and Hong Kong. On Oct. 11, 2004, SuperCom was awarded two finalist positions in the U.S. Smart Passport project, the largest project of its kind and involves the production of a smart inlay for new passports with an embedded electronic chip containing personal identifiers such as biometric data, and the capability to be read and authenticated by a contactless reader. Based on the e-Passport RFP, the scope of the contract is estimated at 10 million new passports per year over a five-year period.
---
Additional resources:
To visit SuperCom online, click here.

Compare FIPS 201 Products
Research and evaluate FIPS 201 Approved Products and get the latest info on compliant credentialing systems at FIPS201.com.
Click to visit FIPS201.com
.