Integrity of Mexico's new voter ID cards ensured via automated card inspection sytem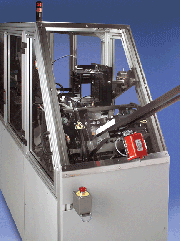 Getting secure IDs out the door is the easy part. But, are they truly secure? Is it imaged correctly? Is the hologram properly positioned? Does the name and Social Security number match the database from which it was pulled?
All this and more is what Spartanics, Rolling Meadows, Illinois, attempts to verify before the ID card ever reaches the intended recipient. "In essence, Spartanics' machine checks each card to verify all the security features are in place and compares the data against the original database that supplied the information," said Spartanics' CEO, Tom Kleeman.
Mexico's voter ID program requires on top-of-the-line inspection
One of the company's largest customers to date has been Oregon-based Digimarc Corp., which was awarded a contract last year to produce secure voter ID cards for Mexico's Instituto Federal Electoral (IFE), the government agency responsible for issuing the voter credentials. Recently, the company announced it has produced some 10 million cards – about a third of what will eventually be produced for the project. The cards go to eligible voters for federal elections and most local elections. It is also, according to Digimarc, "the de facto form of ID for many citizens." It is commonly used for identification at banks, stores and government agencies, the company says.
Digimarc is using two Spartanics 930 Card Inspection Systems – each about three feet wide and 20 feet long – to verify the integrity of the card's security features required by the Mexican government. These security features include bar codes, signature boxes, fingerprint boxes, presence of portraits, security decals, and UV security features.
It is, says Bob Trkovsky, Spartanics vice president of sales and marketing, "part of a larger trend of card manufacturers seeking competitive advantages with quality guarantees now possible with a fully automated single run inspection."
"We are pleased to have hit the 10-million card milestone with this important international secure identification project," said Robert Eckel, president of Digimarc ID Systems. "By supplying the government of Mexico with a new, highly secure ID issuance system, we are providing Mexico's eligible citizens with a secure photo ID that enables them to establish their identity when voting or conducting other business."
Under the contract, Digimarc supplies all card materials and security features. It also provides secure inventory of these materials and a control and audit process that accounts for every piece of material and every identification document produced. The IDs are produced in Digimarc's printing facilities in Mexico, and delivered to IFE.
According to Mr. Kleeman, card manufacturers using manual inspection methods can cut inspection costs by 75% to 80% using the Spartanics 930 machine. That's because the 930 can verify cards at the rate of 10 per second.
Mr. Kleeman says this "wouldn't have been possible five years ago but with state of art computer equipment, such as a 2.5 GHz motherboard, you now have enough horse power to do this inspection." The whole inspection process, he added, is software driven, off a Windows platform.
How does it work?
The 930 uses three cameras, explained Mr. Kleeman. "One camera looks at the face of the card, verifying that the photograph and the printing is all complete while also checking that there aren't any defects in the printing. The second camera looks at the face of the card using specialized lighting, to examine the ultraviolet printing. You can't see it in normal room light. It inspects the UV printing. We look at the back of the card also. On the back we are reading two different bar codes. One of the bar codes is only visible in infrared lighting. In room lighting, it looks like a black stripe."
The cards go through the Spartanics inspection once they're digitally printed, laminated, and die cut. Said Mr. Kleeman, "the inspection machine communicates with the data base which is the same data base the manufacturer used to print the information on the card. In the course of inspecting the cards, if any were to be rejected for any kind of defect, it will report to the database system that it is defective and that a reprint is required. If a card passes, we'll report that to the database too."
"The database can actually reject a card based on the bar code. That's another security check to make sure no card is produced twice," he added.
He said that in Mexico, security features on various ID cards are "highly variable, whereas in the U.S. a driver's license from Alabama has similar characteristics to one issued in Florida. In other words, in the U.S., a driver's license is an acceptable form of photo identification. But in Mexico that's not the case. That's why the voter's ID card is so important. It will be a photo ID that is accepted nationwide as a valid form of identification."
Improved methods for verifying UV and IR printing
Spartanics' latest innovations to the 930 is three different add-on options for UV/IR security inspection: A Single Pass Visible/UV/IR Inspection module, a lower cost Spectra Interchange Inspection module that allows one to inspect in either the visible spectrum, UV spectrum, or IR spectrum in multiple passes; and the lowest cost UV/IR Ink Verification module, that will inspect for the presence of ink, but not for the image integrity in the UV/IR spectrum.
These different tiers of add-ons give card manufacturers a way to eliminate the costs and inaccuracies of manual inspection without taking on more equipment costs than they really need, said Mr. Kleeman.
"For example, some card manufacturers that deal strictly with high value financial cards with less complex UV image features can simply use the 100% accurate automated 930 card inspection equipped with UV/IR Ink Verification Module coupled with manual spot checks to ensure that the image is correct," he said. "This UV/IR Ink Verification costs about 10% of what the full-blown Single Pass Visible/UV/IR Inspection module would cost. A second option, the Spectra Interchange Inspection Module, which is only moderately more expensive than ink verification, lets you run cards through first in the visible spectrum, and then re-run them in the UV or IR spectra, or vice versa. In many European countries, major retailers are verifying UV/IR features at the point of sale, and card manufacturers serving these markets have to do a bit more to guarantee the quality of actual UV/IR images. The downside of this approach, of course, is that unlike the Single Pass Visible/UV/IR Inspection Systems, you need to have the added costs of multiple run inspections and the problems inherent in extra handling."
Besides the card inspection machines, Spartanics also manufactures die cutting equipment for identification cards.
Digimarc provides products and services that enable production of more than 60 million personal identification documents, including two-thirds of U.S. driver's licenses, and IDs for more than 20 countries.