INTERVIEW: Talking contactless and EMV with Visa's Patrick Gautier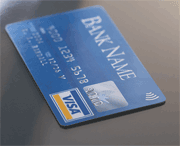 As our editorial team traverses the country and even the oceans discussing contactless payments, two questions are heard more than any other … (1) Can contactless technology transcend the early hype and establish itself as a viable payment tool? And (2) Where the heck is Visa? AVISIAN Publication's Executive Editor, Chris Corum, sat down with Patrick Gautier, Senior Vice President of New Product Development at Visa USA, to ask him these and other questions.
Mr. Gautier has an impressive background in advanced payments. He was the industry's "public face" for the SmartVisa program that culminated in more than 4-million contact chip cards distributed by major issuers in the U.S. He has been a vocal proponent of new technology, a lightning rod for industry discussion (he tends to speak his mind), and an early leader of the "crossover" movement between payment and identification technologies.
Q: Let's start with the big one. To quote the masses … Where the heck is Visa in all this contactless payment migration?
A: We are, and have been, right in the middle of it. We did our first pilots in '02 and have been monitoring the market for years and felt there was no need for big PR. Until very recently, we determined that the technology was not ready for large deployment, but we have seen a noted change. We are also seeing an alignment of the perception of value proposition for consumers and merchants.
Q: Explain what you mean by the alignment of the "perception" of the value proposition?
A: I say perception because at this early phase, it matters as much what the consumers and merchants perceive as what proves to be true. All indicators, however, suggest that there are real and significant benefits for each.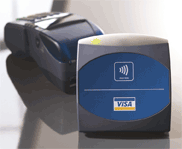 Q: So you mention that you have seen a noted change suggesting the time is right for a contactless offering from Visa. What specific factors have led to this change?
A: There are a number of things. A rich option set of POS solutions are available, the merchant community is interested, and innovative merchants and issuers are expecting to derive benefit from the speed and convenience of contactless payments, and also from being positioned as early adopters. This creates both short and long term benefit. And the consumer research has been extremely encouraging.
Q: To most, you have been known as the contact chip guy at Visa. How do you conceptualize the difference between contact and contactless with regards to payment tokens?
A: Again there is the question of perception and reality. We have learned a lot from our experience with smart card programs – in a way the deployment of contactless is very similar to what we went through when we deployed contact chip. The difference is that there is a very simple value proposition for contactless. We can explain its use (to consumers) with an icon. And merchants clearly understand the benefits of reduced time at the POS.
Q: So back to the initial question, "Where is Visa in the product offering stage?"
A: Visa announced in February that we have completed the development our contactless platform, meaning we are ready to support deployment of contactless programs with any Visa issuer. When those cards will appear in the market is up to the issuer, but we fully expect to see contactless products in the U.S. in the near-term.
Q: This year?
A: This year. For the early participants it will have an acquisition advantage. We also need to remember that even after achieving market adoption it still takes years to shape consumer behavior.
Q: What do you think the industry has to do to make contactless succeed for payments?

A: First, avoid branding confusion. We are not creating a new product here. It is simply a new feature on existing cards – a different means to deliver an existing product. In the payment world, there are really three product categories – pay before, pay now, and pay later. Contactless is simply a new delivery of an existing product. I strongly believe that the industry needs to move toward a universal iconic indicator for contactless payments. The icon needs to transcend brands to make it easily understandable for consumers. We have offered the icon developed by Visa to the industry to this end.
Q: What did you learn from the SmartVisa experience that you are translating to the contactless offering?
A: Three main things. Reuse existing infrastructure to lower costs; make it simple to adopt; and go after mass deployments. We need to harness market forces if we stand a chance of converting the part of the portfolio that makes sense. As I said, contactless is not a new product but a new delivery mechanism for an existing product. The same is true for SmartVisa. With any payment product, there are four goals: acquisition, activation, usage, and retention. You've got to keep the product fresh to achieve them.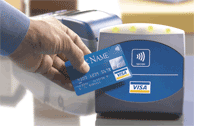 Q: In your mind is contactless simply a new marketing tool or are those perceived benefits you talked about significant enough to make it a real value-added component?
A: I do believe it has real benefits. In addition to the things like quicker transactions, user convenience, cardholder-initiated payments … it will help migrate card payments into arenas formerly dominated by cash. The QSR (quick service restaurant) market is huge – $131 billion … with a "B". Compare that to just $8.6 billion dollars spent on public transit in the U.S. and you can see why this is an attractive proposition. A side benefit of contactless payment could be that it brings magnetic stripe-accepting POS (as well as contactless) into QSRs.
Q: So cash is still king as they say?
A: Well in 2004 alone, cash transactions in the U.S. were $1.2 trillion and Visa transactions in the U.S. amounted to $1.2 trillion in spending. Let's say cash is still a massive opportunity for the payment industry.
Q: Let's switch gears and talk about EMV. We are all pretty familiar with the progress around the world, but I'd like to here your thoughts on the impacts in the U.S.?
A: While contact chip programs have not enjoyed the same success in the United States as in other countries, there are some things happening that are changing the landscape. First, the processors are internationalizing so the networks are being upgraded (to handle EMV) regardless of U.S. migration. And EMV-ready POS devices are moving in, as the devices become the worldwide standard. So there is this theory that the U.S. may experience adoption in spite of the market.
Q: You say in spite of the market because you don't see a traditional driver for EMV there?
A: The traditional driver is fraud and the U.S. doesn't have a fraud problem. So the reason to go to chip here are different and centered around differentiation and value add services.
Q: I think that many Americans would disagree that the U.S. doesn't have a fraud problem. What makes you say that?
A: Fraud in the U.S. is just 5 cents per $100 spent. That is a historic low at a time when usage is expanding. The reason is that we have great authorization systems that make use of information and customer data to combat fraud. For instance, we use address verification and a host of tools deployed across the network.

Q: How about the impacts of the telecom infrastructure?
A: The U.S. telecom infrastructure is cost-effective and expansive to the point that over 99.5% of transactions are authorized. And it is only getting better. With DSL at the point of sale and the implementation of Direct Exchange, we have achieved round-trip authorization times of 1.4 seconds in United States.
Q: Despite all these factors working against it, you still think that we will see EMV in the U.S. at some point?
A: My gut tells me we will see some convergence in the future between contactless and EMV. It may be due to the need for global continuity within payment systems.
Q: Any predictions of when this might occur?
A: It won't happen quickly. The U.S. has about1 billion payment cards in circulation – Visa's share of that is just under 500 million. 5.6 million merchants accept Visa payments and over 13 million POS terminals are deployed. Compare this to the U.K. which has just 70 million cards in market and took over 10 years to make the transition to EMV.