IR selects XceedID readers for contactless offering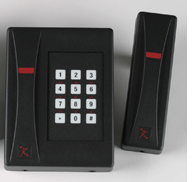 Ingersoll Rand Security Technologies group has selected the multi-technology reader solutions from Colorado-based XceedID. The combo prox and contactless readers will be private-labeled under IR's SCHLAGE brand.
Ingersoll Rand Security Technologies to Private Label XceedID ISO-X™ Multi-Technology Card Readers
GOLDEN, COLORADO – February 28, 2006 – XceedID Corp. recently entered into a private-label OEM agreement with Ingersoll Rand Security Technologies, a leading security manufacturer and systems integrator. XceedID Corporation's innovative line of ISO-X™ Multi-Technology readers will now be available under the world recognized SCHLAGE brand.
XceedID's versatile ISO-X Multi-Technology reader provides unprecedented functionality. The ISO-X reader family supports HID® proximity, GE/CASI® ProxLite® and contactless smart cards including XceedID ISO-X, Infineon my-d®, Philips MIFARE®, Philips MIFARE DESFire®, and HID iCLASS™. The readers can read proximity numbers, smart card serial numbers and the data application areas of various contactless smart cards all in the same device providing compelling value to end customers. The complete line of ISO-X readers includes a mullion mount reader, a mid-range reader and mid-range reader with a keypad.
"We are very excited about our strong partnership with Ingersoll-Rand Security Technologies. They are a leading organization in security and maintain a channel footprint worldwide. Our innovative class of leading products are a tremendous value for end customers and we look forward to supporting Ingersoll Rand with strong sales growth of XceedID technology." said John Menzel, XceedID President and CEO.
"Through our XceedID Ingersoll Rand partnership we will now be able to offer the most comprehensive reader solution in the industry. Competitively priced Multi-technology readers provide our customer base with unprecedented flexibility. The product platform allows seamless migration from old proximity technology to new higher security contactless technology." said Gary D'Aries, Ingersoll Rand Global Marketing Manager.
About Ingersoll-Rand
Ingersoll Rand's Security Technologies Sector is a leading global provider of products and services that make environments safe, secure and productive. The sector's market-leading products include electronic and biometric access control systems; time and attendance and personnel scheduling systems; mechanical locks and portable security; door closers and exit devices; steel doors and frames; architectural hardware; and technologies and services for global security markets.
Ingersoll Rand is a global provider of products, services, and integrated solutions to industries as diverse as transportation, manufacturing, construction, and agriculture. The company brings to bear a 100-year-old heritage of technological innovation to help companies be more productive, efficient, and innovative.
---
About XceedID Corporation
Based in Golden, Colorado, XceedID is a privately held company dedicated to the design, development and supply of advanced contactless RFID products. XceedID pioneered development of multi-technology readers which combine traditional proximity and advanced contactless smart technology in one reader. XceedID products are sold through industry leading access control manufacturers. For additional information about XceedID Corporation please visit www.XceedID.com.