Is That a Real Tiger?: Using RFID to Create a True 'Chain of Custody' for the Sports Memorabilia Market
By David C. Wyld, Southeastern Louisiana University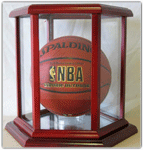 The sports memorabilia market today is a global marketplace, estimated to generate revenues in excess of $5 billion annually. However, it is a market unlike any other due to the giant presence of counterfeit items. The official estimate from the FBI is that 70% of all signed sports collectibles on the market in the U.S. are counterfeit – forged signatures on items which themselves may or may not be what they are purported to be (after all, even official merchandise from sports leagues and special events, such as Super Bowls, World Cups, or World Series, can be faked).
Industry observers however believe the true figure to be even higher, ranging to upwards of 90% of all sports collectibles. Thus, this is perhaps the ultimate example of a caveat emptor (buyer beware) market. Thus, there is a great need to have a solution that can assure buyers – and sellers – of the authenticity of an item – not just presently, but into the future – a "chain of custody" if you will. Hmmmmmmm, sounds like a perfect case for RFID – and it is.
The Sports Memorabilia Market
Anyone can buy a piece of sports memorabilia to hang on the wall or show in a display case, and if you're happy with the price you paid for it, all the better. However, unless you personally witnessed the athlete signing the football, the odds are that the ball is not worth any more than what you would have paid for an unsigned ball at a sporting goods store.
The sports memorabilia market can be segmented into two very distinct segments – trusted sources and other. Trusted sources include both sports memorabilia shows and sports marketing agencies. In the former category, there are a growing number of such events, where athletes are available – generally on a paid basis – to sign a limited number of items, both brought in by fans and bought at the show. At these shows, items are signed, with witnesses present and able to authenticate the athlete's signature on a Certificate of Authenticity, or COA. This certification is what raises the status and value of an item from being a sports collectible to becoming an item of sports memorabilia.
The second trusted source is the sports agencies that contract with athletes to be exclusive purveyors of their autographed merchandise. In the United States, the market leaders are companies such as:
ALLAuthentic.com
Mounted Memories
Steiner Sports
Upper Deck.
Take Upper Deck for instance. This sports marketing agency has multi-million dollar contracts with current and former athletes from a whole host of sports, including: basketball (NBA players Michael Jordan, LeBron James, Kobe Bryant, Dwight Howard, Kareem Abdul-Jabbar, and Magic Johnson); baseball (Albert Pujols, Ken Griffey Jr., Cal Ripken Jr., Sandy Koufax, Nolan Ryan, and Stan Musial); football (Peyton Manning, Tom Brady, Tony Romo, Troy Aikman, John Elway, and Joe Montana); and golf (Tiger Woods and Jack Nicklaus).
Upper Deck is a market leader not just because of its status as the exclusive retailer for these star athletes of today and yesterday, but also its five-step certification process that stamps the item with a unique hologram and provides the owner with a certificate of authenticity and registration with the Upper Deck database.
The company is even experimenting with what it calls its PenCam technology, which provides further authentication assurance by providing a video capture from – you guessed it – a pen equipped with a tiny video camera that captures the actual signature of the athlete on the item as it is being rendered, which is then recorded and accessible on the company's database. Thus, items from trusted agencies such as Upper Deck do command premium prices, due to the fact that buyers and sellers alike have a very reliable "chain of custody" for their items of sports memorabilia.
However, the vast majority of the sports memorabilia market is a murky, other place. In most cases, both offline and online, it is a very untrustworthy market, filled with intentionally counterfeited signed sports paraphernalia and fake items that are being bought and sold by mostly unknowing participants.
The entire sports memorabilia market in the U.S., and indeed around the world, is still reeling from the 2001 bust of a major fraud ring. The FBI arrested almost two-dozen individuals, most of which served prison time for their involvement in the counterfeit sports memorabilia scheme. The enterprise, which operated across more than a dozen states, had expert forgers who could quickly produce entire lots of phony memorabilia.
The 2001 raid yielded thousands of fraudulently signed baseballs, jerseys, helmets, photos and other articles. The damage however, had been already been done – and it continues to this day. In all, the FBI estimates that over $100 million in fake memorabilia was sold through the scheme, much of which is still on the market today, being traded by often-unsuspecting buyers and even sellers.
The FBI found that not only could the forgers create knock-offs that could fool even the most knowledgeable sports memorabilia authenticator or collector, they uncovered that the criminals had turned the authentication process to their advantage. This is because the crooks were equally adept at falsifying the COAs and holograms put in place in the industry to assure the genuineness of the item.
While 2001's Operation Bullpen was the largest fraud scheme uncovered in the sports memorabilia market to date, criminal arrests continue to plague the industry. The FBI estimates that such fraud makes for over a half a billion dollars in annual losses, impacting thousands of customers and making it more difficult both for athletes to retain the value of their names and for legitimate firms to compete in a skeptical marketplace.
The impact can be seen in the fact that small, independent "mom and pop" sports memorabilia stores were once a staple of strip malls across America. According to industry observers, the number of such stores has plummeted from approximately 4,700 a decade ago to just over a thousand today. Much of this decline can be traced to the shifting of buying and selling sports memorabilia to eBay and other major online auction sites, much as has occurred with other collectibles, such as coins, stamps and antique items.
However, the ease of access and widening of the marketplace has fostered an explosion of online memorabilia sales. One can see evidence of this by punching in any well-known athlete's name on eBay, and whether you search for David Beckham, Muhammad Ali, Tiger Woods, or even a lesser known star, you will come-up with dozens, even hundreds, of autographed items up for sale at any given time. However, the move to greater online sales has worsened the problem with counterfeit memorabilia, for as one law enforcement official described the situation today, it's "like the Wild, Wild West."
One of the major problem-points for the whole memorabilia sales and trading process is the Certificate of Authenticity that accompanies an item. Ostensibly in place to provide a potential buyer with the assurance that the item he or she is considering purchasing is a genuine article, today, the effect is almost the opposite.
This is because of rampant fraud in the creation of these COAs. Today, there is no industry standard for certification process or for the paper COA itself. Thus, there are rampant problems with these documents. Some fraudulent memorabilia sellers create their own fake COAs to accompany their fake items. While there are several reputable third-party certification services, who will analyze an item and its history to determine its authenticity, there are also disreputable ones, known to certify – in the words of one law enforcement official: "almost anything."
The RFID Solution
What is clearly needed today is a true "chain of custody" capability to authenticate items of sports memorabilia from the athlete's signature through all future trades of the article. With the rampant fraud issues, which can only be exacerbated by both the high dollars attached to many items and the accelerating technology that can be used to create both forged articles and proofs of authenticity, there is a common interest for a foolproof solution.
The leading company today attempting to apply an RFID-based solution to authenticating sports memorabilia is the Irving, Texas-based Prova Group. Prova is currently marketing its patented Autograph Certification System for use at signing events and trade shows.
The concept, according to Daniel Werner, the firm's vice president of marketing: "Prova decided early on to create a system that works at the moment of the signing that would put authentication in a database and lock that information onto an RFID tag." As such, the tag is applied to the item prior to signing, and then, at the point of signing, the tag is read by and entered into the Prova database, recording who, when, and where the autograph took place. Once an item is registered in Prova's Online Registry, the registered owner is able to print a Certificate of Authenticity on demand and to share the tagged item's complete history – its chain of custody – with interested buyers or other collectors. Further, if a collector wishes to add additional signatures to an item (such as having an entire championship team autograph a football or basketball or adding the autograph of a current star – say Tony Romo – to a ball previously signed by a historic quarterback, such as Bart Starr or Joe Namath), the Prova RFID tag can record each separately and provide proof of authenticity for each autograph.
The Prova system makes use of two form factors of high frequency, 13.56 MHz passive tags for different sized collectibles, the smallest of which measures 1 inch by ¼ inch. X-ident Technology supplies both of the tag forms. The system has been employed at special events where Prova has authenticated up to 4,000 items of memorabilia. And now, the firm is shifting from fixed reader stations to hand-held Sirit readers to enable easier certification, as well as seeking ways to minimize the amount of data that has to be input to certify each individual autograph to speed the process.
Analysis
Interjecting RFID into the sports memorabilia market certainly parallels other auto-ID technological applications, most notably pharmaceuticals and government-issued forms of identification. With both of these applications, there is a significant threat of counterfeit items.
While there is undoubtedly a far greater threat of personal harm from the use of fake prescription drugs and the presence of phony passports or ID cards than a forged signature of Alex Rodriquez on a photo or baseball card, RFID has proven to be an effective solution in these areas. Further, the high dollars involved means that the ROI potential is significant, as the ratio of the cost of the tag to the value of the item it is affixed to can be quite low. Indeed, with an unauthenticated item basically being worthless, the need to shift to an auto-ID solution is quite clear.
While the sports memorabilia industry is highly fragmented – with large agencies and thousands of small sellers and perhaps millions of collectors, a coordinated strategy is highly unlikely. However, if the major sports marketing agencies choose independently or collectively to implement Prova or another player's RFID solution, this would go a long way toward making RFID-based authentication a reality in the sports memorabilia industry. In doing so, an industry best known today for being susceptible to anyone with a box of baseballs and a Sharpie pen can restore trust – and value – to its marketplace.
---
Wyld is a professor at Southeastern Louisiana University and director of the strategic e-commerce/e-Government initiative in the department of management. He can be reached dwyld@selu.edu.