Italy's Lega Pro football league to issue fans ID cards for upcoming season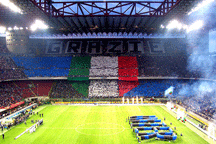 Lega Pro and Telecom Italia have announced that at the start of this year's season new cotactless-enabled ID cards will be issued to league fans in order to better manage stadium access.
Each ID card comes embedded with an microchip that is used to record the fan's ticket purchases. Stadium employees using hand held terminals read each fan's card at the gate and verify that the cardholder has purchased a valid match day ticket, eliminating the need to present paper tickets for stadium access.
The card, which doubles as a rechargeable Visa card, also offers access to a variety of football club-supplied services, such as bonus tickets, fast-track turnstiles, and other fan benefits.
The ID cards, called "Tessere del Tifoso" (or "Fan Passes"), will be issued to fans of each of the leagues 90 affiliated Italian football clubs.