Gait biometrics enable identification and authentication
"I know his gait, 'tis he.–Villain, thou diest!"
– Othello, act V, scene 1
William Shakespeare mentioned in several plays that you could recognize a person by the way he walked. Yet it's taken hundreds of years for researchers to discover the science behind gait biometrics and make it a viable identification tool.
Professor Mark Nixon of the School of Electronics and Computer Science at the UK's University of Southampton became interested in gait in the early 1990s during the Jamie Bulger murder case.
Bulger was a toddler who was abducted and killed by two ten-year-old boys while on a shopping trip with his mother. Surveillance cameras caught the trio walking through the shopping center, but the footage didn't show the faces of the abductors. They could, however, see the way the kidnappers walked.
Nixon and his fellow researchers thought it might be possible to develop a computer program that could identify people by their gait. "It proved to be a tough nut to crack," says Nixon, explaining that a walking object on video creates a large volume of data from multiple viewpoints because perception changes as the subject moves. Add to that the fact that people wear different clothes and shoes, and the researchers had a difficult challenge.
In the early 2000s, the Defense Advanced Research Projects Agency (DARPA) funded the Human ID Project, an exploration into image understanding and identifying humans at a distance. Professor Aaron Bobick, Chair of the School of Interactive Computing at Georgia Institute of Technology, was one of the researchers who received DARPA funding to study this area.
Bobick focused on authentication as opposed to identification. While identification attempts to make a one-to-many match, authentication more narrowly performs a one-to-one match. "It's more forgiving," says Bobick, noting that measurements can be more consistent, and even if you have a large database, "for someone to pretend to be Joe, they have to match with a small percentage to get away with it."
Because verification is "a much easier bar to hit," Bobick says it has immediate real world application, like physical access control. Someone can use a contactless smart card to assert an identity, for example, and the cameras can take measurements of the person's gait to match with the stored identity.
Gait biometrics utilizes measurements to quantify physical processes. Nixon's group measures a variety of things including body shape or silhouette and the dynamics of a person's leg motion. Researchers create an algorithm from these measurements, and from there, build databases of individuals to use for matching.
In the early 2000s, some researchers found the science of gait biometrics to be inconclusive, citing that there were too many variables to create certainty. Still what it could do, says Bobick, was help police narrow down a field of criminals. They would have the ability to reduce 100,000 hours of footage down to 100 hours, a volume that could then be physically viewed by several men in short order.
"It pulls out the one percent of the video and says in each of these clips, there is somebody who could be my guy. In that way it's a success because you wouldn't have found him otherwise," says Bobick.
Sudeep Sarkar, professor of Computer Science and Engineering at the University of South Florida, was another researcher who worked for the Human ID project. His research concluded that gait alone could not positively identify an individual. "You can recognize somebody up to 80 to 85% (certainty) based on gait and you can do it from a large distance. You cannot do definitive recognition with it, but combined with other factors, you could get a higher hit," says Sarkar, adding that face and gait recognition together could get a positive hit in the 90th percentile.
Although much of the research in this field ended when DARPA funding dried up, Nixon and his team kept on, creating a specially equipped tunnel to help populate its database with information about the legs and the way they swing. This tunnel, which looks a lot like a metal detector, is outfitted with 12 cameras that capture a 3D image of a person walking over a set course. This image is then converted into numbers, which is then combined to give a person a distinct ID.
A specialized tunnel through which subjects carefully walk may seem like an overly controlled environment for practical application. In the field, people walk over various terrains in different shoes, they gain or lose weight, and may even be a criminal trying to avoid detection.
But the tunnel seems to work. Nixon and his team put it to the test using different shoes and clothing, obscuring faces and even adding padding. Along the way, the database did an impressive job of successfully matching subjects to their gait. In fact, flip-flops were the only shoes that did confuse the system. The researchers found that the action of the toes clinging around the thong in the shoe could adjust the way someone walks.
"It's quite hard to spoof gait," says Nixon, adding that you can try to fool the system, but essentially the leg geometry doesn't change, which means if you're using body measurements for your algorithm, "there's a space you haven't changed."
As the team built its database, it discovered that human walking is more unique than one might expect. Measuring people walking over 11 months, they found that individuals do walk in a very consistent way.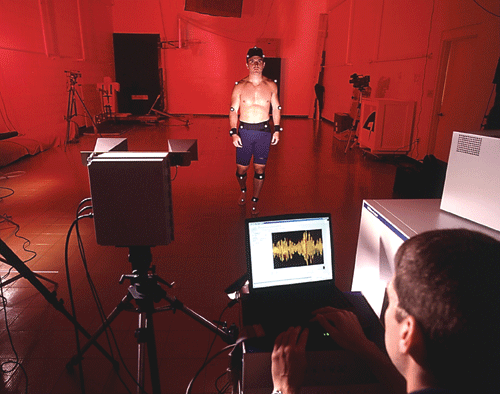 Real world use
In practical settings, gait biometrics may be reaching feasibility particularly in applications requiring one-to-one authentication. In situations where the police are trying to use it to convict a criminal, it can be effective if the video recorded gait is compared to a known suspect.
One-to-many identification, however, remains a challenge. Unlike fingerprints or facial photographs, there is no significant database of gait biometrics. Even if there was such a database, some question whether the current accuracy of measurement would enable millions of records to be culled down to a reasonable sample for human review.
Still, Nixon and his crew have had successes. They helped the British police locate a purse-snatcher his identifying features with a unique motorcycle helmet and gloves. They compared two different video shots of the suspect confirming through gait that both were the same person.
Using surveillance cameras to identify suspects through gait is difficult because today's cameras are designed for human operators, says Nixon. They're all sighted to see the face, he explains, and "we're not interested in that."
In a practical setting it is still a ways off because of the sheer volume of work involved with building the database and the algorithms. Still, what was a pipe dream in the early days of biometrics is closer to becoming a viable option for identification.
"In 1995 you couldn't do what we could do now," says Nixon. "It's hard, but it does work … I like to think gait will become part of the spectrum of biometric solutions in the future."
If he is right, Shakespeare's casual observations could be transformed into science. "Shakespeare knew it too," says Nixon. "But he was a clever bloke."