Japanese student ID provides secure access using contactless smart cards and palm vein biometrics

Student ID technology combining contactless palm vein authentication with a multi-function card, has made its debut at a Japanese high tech college. The extra layers of student protection will also help the school comply with tougher personal data security laws.
So far, the new ID system "is going well," said Tomoko Inoue, press and public relations for Tokyo-based Dai Nippon Printing Co., Ltd., which is producing the cards for Chiba Institute of Technology. Dai Nippon has 33 plants in Japan and another eight overseas.
The other half of the partnership is Fujitsu Limited, developer of the contactless palm vein authentication technology. It is used in conjunction with a dual interface Java-based smart card manufactured and issued by Dai Nippon. The smart card uses the FeliCa contactless format developed by Sony Corp.
"In light of the Personal Data Protection Law which went into full effect on April 1, 2005 in Japan and the gravity of personal information leakage, Chiba Institute … has worked to strengthen its information security for the entire school," said Ms. Inoue. "By providing quick and secure access to personal data, the Institute has enhanced its level of service to its students."
Since April 1, smart cards have been distributed to Chiba Institute students and faculty. The cardholder's palm vein pattern data is incorporated into the smart card, which also includes the student's ID number.
Since July, students have been able to view personal data, such as academic transcripts, from information terminals known as a Kyoumu Interactive Support System (KISS). These are installed at various locations around campus. By inserting their student ID cards in the terminals and placing their palms over the reader, secure access to records is achieved.
Students can also use the ID cards to log into their personal computers.
According to the college, for its next academic year (April 2006 – March 2007), the Institute intends to expand the system to include faculty. The Institute is also considering use of the cards to control room access to study halls, track class attendance, and control the lending of books and other reference materials.
Ms. Inoue could not elaborate on the system's expense, "because its cost fluctuates depending on specifications of the ID systems or ID card." As to offering the system at other schools, she said "details have not yet been decided."
About the palm vein technology
The smart card system using the contactless palm vein authentication technology was developed using the SafetyMAM system from Fujitsu, which manages the smart card life cycle from issuance to termination, and the SafetyDomain application software, also from Fujitsu, which enables secure log-ins to PCs and administrative applications using smart cards.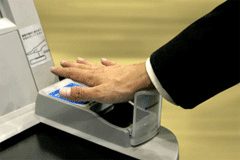 Fujitsu's technology allows an individual's palm vein pattern to be read without direct contact with the reader. The palm is compared with a stored pattern from the individual's file to verify the student's identity. This lack of direct contact promotes hygiene, making it ideal for applications that allow public access, said Ms. Inoue.
Fujitsu's palm vein authentication technology consists of a small palm vein scanner that's fast and accurate, according to the company. A user simply holds his palm a few centimeters over the scanner and within a second the vein pattern is read, a vein picture is taken, and the pattern is registered.
According to Fujitsu, vein patterns are unique even among identical twins. Each hand is different, too. A person logging in with his left hand after registering with his right would be denied access. The scanner makes use of a special characteristic of the reduced hemoglobin coursing through the palm veins – it absorbs near-infrared light. This makes it possible to take a snapshot of what's beneath the outer skin, something very hard to read or steal, according to the company.
The Bank of Tokyo-Mitsubishi's ATMs in Japan are already equipped with Fujitsu's palm vein scanners. Users access their accounts by having a scan of their palm compared to a pre-registered scan stored on their bankcard.
Fujitsu's contactless palm vein authentication technology is also planned to handle front entrance security at a condominium complex under construction in Tokyo.
Since its introduction in Japan in July, 2004, Fujitsu has sold approximately 5,000 units of its palm vein scanners in Japan. Fujitsu also plans to introduce a compact version of the device that it aims to incorporate in consumer products, such as personal computers and mobile phones.