JPMorgan Chase launches 'Future Proof' payment terminal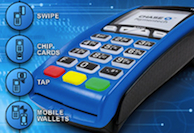 Chase Paymentech, a subsidiary of JPMorgan Chase, has launched its new "Future Proof" all in one terminal for EMV, contactless and NFC payments.
The Future Proof terminal is available through Chase's 5,300 bank branch network and on the company's website. According to Chase, it is designed for a wide variety of merchants and offers support for all kinds of electronic payments, including traditional magnetic-stripe payment cards, EMV-enabled chip cards, NFC-enabled mobile wallets, and contactless payments.
"As emerging payment options gain adoption in the U.S., merchants are looking to make the customer check-out process as easy and safe as possible," said Mike Duffy, president of Chase Paymentech. "The Future Proof terminal is a one-stop solution for merchants to keep accepting today's forms of payment and prepare for new consumer payment preferences on the horizon."
According to a release from Chase, the company is introducing the terminal in anticipation of the conversion to EMV-chip cards in the U.S., along with the advent of other new payment technologies. Chase said that EMV acceptance capabilities are "critically important" in payment terminals given the domestic interest in EMV and the technology's widespread use around the world.
Check out the terminal in action: