Kayser-Roth teams with Motorola, Entigral Systems to launch item-level solution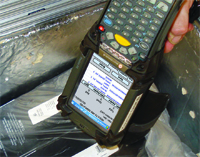 Kayser-Roth, a woman's legwear and intimate apparel manufacturer based in Greensboro, N.C., has deployed a nation-wide item-level RFID program to enhance inventory control for its retail partners and customers.
Based on Entigral Systems' Traxware software platform the solution includes several thousand RFID tags printed in batch and then placed on individual selling units of product during manufacturing. These tags combined with Motorola MC9090-G RFID handhelds enable Kayser-Roth Quality Control personnel to track and audit product in their manufacturing facility.
Within a few seconds all tags are read, displaying the UPC code, the SKU, and the quantity. And the also notifies whether there are unreadable tags or something that is not in the Kayser-Roth database.
To maintain operational status the MC9090-G works independently of the network and corporate servers. The Motorola RFID handheld computer also has its own memory and database, and the Traxware solution can function in a "disconnected mode".
At the end of their shift, personnel wirelessly synchronize to the network and corporate servers wish the push of a button. Data provided from system also enables capabilities including automated replenishment and automated reordering to reduce out-of-stocks.