Keeping up with rapid security pace paramount in 2007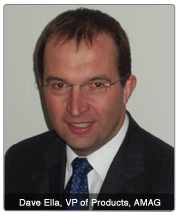 Part of the AVISIAN Publishing Expert Panel series to be published throughout December 2006
Dave Ella, VP of Products, AMAG Technology
The world of security is always changing. Below are five trends we've noticed that are moving at a rapid speed.
Trend #1:
Large organizations are maintaining all of their identity information in a single place – whether it is an ERP application like SAP, an LDAP identity management directory or Microsoft Active Directory. In this new environment, the integration to the physical access control and badging systems needs to be real time and flexible to take into account changing organizational requirements.
Trend #2:
AMAG is finding that schools and universities are tightening up the access privileges of their students down to specific doors at certain times. Lab time, for example, is assigned and students are allowed access at their assigned time only. In this environment, you need a powerful capability to amend student access rights in bulk at the start of a new school year or when they transition from class to class.
Trend #3:
Today almost all new physical access control systems incorporate integrated digital video management. This allows a security guard to compare the person at the door to the photo of the person whose badge he or she is using. This can provide a considerable increase in security at the perimeter without the need for biometrics or other additional security measures.
Trend #4:
Throughput of visitors is important, and we find that many customers who process several hundred visitors a day–for example military bases or prisons–are using driver's license scanning techniques to populate their ID management systems. The driver's license scanner populates visitors' details in seconds, including their photos, and therefore allows visitors to be processed much more quickly, keeping delays to a minimum.
Trend #5:
The federal government and transportation workers ID card projects have been moving forward quickly and one of the key issues as we see it is the inter-agency interoperability of the cards and making sure that credential revocation databases are freely available. If an employee of Agency A visits Agency B carrying his credential, Agency B needs to be able to check that Agency A has not revoked the credential. In other words, is the credential still valid?