Kettle Brand Chips teams with iGPS for shipping products throughout the U.S.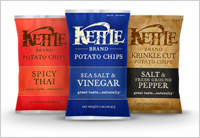 Intelligent Global Pooling Systems (iGPS) announced that Kettle Brand Chips will begin shipping its products throughout the U.S. on iGPS' all-plastic pallets with embedded RFID tags.
The producer of snack foods including Kettle Brand Potato Chip and Handcrafted Nuts will use iGPS' RFID-enabled pallets, which are 100% recyclable and 30% lighter than pallets made of wood. The pallets are environment friendly and do not absorb fluids that can cross-contaminate food.
In addition, iGPS pallets do not harbor wood-boring insect, therefore never require treatment with toxic pesticides. And thanks to embedded RFID tags, shippers and receivers can track shipments throughout the supply chain.