Korea reveals RFID-enabled bicycle sharing programs at technology expo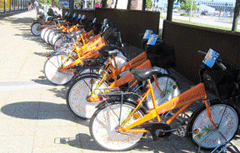 This year's RFID/USN Korea, the country's annual expo of RFID technology, featured two proposed bicycle sharing programs for "greener" transportation in major Korean cities.
The first system was developed by Victek, and involves three components: bikes with built in monitoring systems, rental kiosks where citizens can rent bikes via credit card, cell phone, or member ID card, and electronic holding fixtures where the bikes are stored and the monitoring systems are charged.
The monitoring systems installed in the bikes help government officials keep track of the bicycles, as well as record various information for the benefit of the user, including distance traveled, traveling time, and amount of calories burned.
The city of Daejeon is currently testing the system with 200 bicycles, and plans to expand it in the coming months. Additionally, the Korean government is showing its support of bicycle transportation by building more bicycle roads.
The other system displayed at the expo was developed by Initus, which operates on the same principle (monitoring systems included), but instead uses a cable for storing and securing the bicycles, potentially minimizing the space and construction needed for installation.
Read more here