L-1 unveils new finger vein system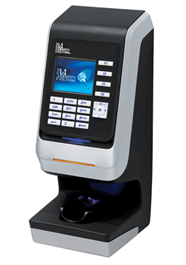 L-1 Identity Solutions has announced a new biometric product that supports a mode of biometrics new to the company, which has previously worked with fingerprint and facial recognition.
The 4G FingerVein Station, L-1's new product, operates by scanning the unique layout of veins in one's finger via near-infrared lights and utilizes the 4G access control technology platform created by L-1. The biometric mode is one of the many features that L-1 is touting as aspects that typically trip up a standard fingerprint scanner such as dirty, dry or damaged fingers do not impede the ability of a vein scanner.
Some of the other security enhancing features the unit offers include options for multi-factor authentication, as high as three-factor, optional integration of proximity or smart card readers and ability to assign a finger as a duress finger. Additionally, it has a capacity for storing half a million templates of finger vein layouts and leverages communication modes such as Wi-Fi and IP connectivity for remote operation.