Laks launches PayPass-enabled watch in UK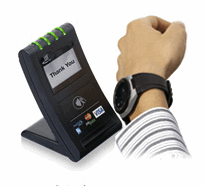 Laks has announced the commercial launch of its watch2pay contactless-enabled wristwatch in the UK.
Equipped with MasterCard's PayPass technology, the watch can be used to make contactless purchases of up to £15 in more than 70,000 UK retailers now accepting PayPass payments.
Watch2pay comes with a MasterCard prepaid "watch card," resembling a SIM card in size and shape, that is inserted into a slot on the side of the watch to enable payments. The card, which is valid for up to two-years, can be loaded with credit online via the user's Kalixa eAccount.
The watch also comes with a standard size prepaid MasterCard contactless card featuring the Watch2pay logo.
The device is now available through the Watch2pay website for £99.