LEGIC supplies core contactless technology to 180 global partners

LEGIC Identsystems has always been about security. Even from the beginning, when it was dealing with electronic door locks, security was its watchword. And while the company is housed in Switzerland, it has long arms that reach to China, North America, and Singapore. LEGIC proclaims itself as developer of the world's first contactless access control system. No wonder, considering its roots.
"The start of LEGIC can be traced back to a product developed by KABA, LEGIC's parent company," explained Stephen Neff, vice president of sales and marketing for LEGIC.
KABA, a more than 140-year-old company which specialized in walk-in safes, "mastered the art of mechatronics in the form of integrating an electronic chip into a mechanical key that made electric contact with an intelligent-locking cylinder for use in commercial buildings," said Mr. Neff. "If the key is lost, then you can tell the cylinder not to accept the key anymore. These first products were done with a chip. Electronic contacts always had to work within a tolerance of just one micron. While this product was very innovative, it suffered from having electric contacts between the key and the cylinder that can become dirty or can corrode. We heard of RFID and thought this might be the solution. Instead of having an electronic contact, you can do the same thing with RFID. In 1992, a product line called LEGIC was launched," said Mr. Neff.
The name was derived from its application purpose and the technology involved: LEGitimization Integrated Circuit.
"What made LEGIC unique was that the RFID technology was not kept proprietary to KABA but it was licensed to everybody including our competitors. We've been doing this since 1992 and we now have 180 licensed partners worldwide and 2,000 applications based on LEGIC."
That same year, LEGIC launched its contactless security module operating at 13.56 MHz, at CeBIT 1992. It was the first identification system of its kind in the world.
"Most of the systems at that time were 125 kHz or low frequency, and when we went to 13.56 MHz, we were very unique," said Mr. Neff. The LEGIC system was also different in that it had long read and write distances, nearly 1.2 meters, using two antennas, he added. "What also was unique is that everything was already encrypted at that time, including the transfer, which lent itself to high security applications. Because the data was encrypted we could run multi-applications on the transponder."
Another first: "Already in 1992 we were using a normal credit card-sized credential," said Mr. Neff, who has six years' background as electronic engineer in chip development and design and has a graduate degree from the British Columbia Institute of Technolgy and an MBA from the University of Hertfordshire in the UK.

Supplying core technology for its global partner network
In a nutshell, said Mr. Neff, LEGIC considers itself the world leader in the design and manufacture of 13.56 MHz contactless smart card technology. Its product portfolio includes highly integrated LEGIC RF Standard, ISO 15693 and ISO 14443 compliant read/write chip sets, security modules and transponder chips for integration into third party products.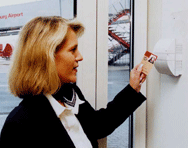 The company works with more than 180 external partners worldwide who offer compatible LEGIC based applications including access control, cashless payment, parking, time and attendance, e-ticketing and other multi-applications for both workplace and leisure applications. Some of its 50,000 installations worldwide include BMW, the Volkswagen Audi Group, AIRBUS, manufacturing plants in China, Bayer Pharmaceuticals, and a number of tourist areas.
"We have delivered more then 60 Million transponder chips for credentials, and more than 800,000 readers in 50,000 single installations worldwide with LEGIC technology," he said.
LEGIC doesn't manufacture the cards, just the technology. "This allows our partners and all end users to out-source cards (credentials) anywhere in the world locally. LEGIC gives stringent quality guidelines to its card partners to ensure uniform and interoperable products. It also insures that there is an efficient marketplace for cards to ensure that no one card manufacturer can monopolize the cards business," explained Mr. Neff. "LEGIC technology is available to all credential manufacturers and thus a wide spectrum of credentials are available. In addition, we do not make complete readers or terminals. We supply the chip sets (LEGIC advant) which meets the ISO 14443 and 15693 standards."
Worldwide expansion
LEGIC, said Mr. Neff, is experiencing "a double-digit growth rate that reflects a stronger growth rate then that of the chosen market segment we are in. This optimism is supported by our opening of additional offices in Asia, Western Europe, and North America."
The company is relocating its Hong Kong office because right now, Shanghai is where the action is. "The market is really booming in Shanghai," said Mr. Neff. "It's mind boggling what's going on there; all the construction there. It's one of the most active shipping hubs in Asia. We will open our office in Shanghai in April. That will be our main (Asian) hub."
Its newest office is North America, one of its main focuses for the future.
"We're in BMW with LEGIC-based platform readers," said Bob Fee, LEGIC's general manager for North American operations in Chicago. "At BMW, it is truly a multi-app environment, including access control, time and attendance, cashless payment. You can take your corporate ID and use it to buy gas," he added.
"In addition to BMW expanding its LEGIC smart card platform here in the states, we have several other customers, including Airbus," he said.
"As demand grows in the U.S. we want to help support our partners (globally, such as BMW) and offer an alternative to some of the current players," said Mr. Fee. "We opened in the U.S. because we have over 15 global partners, with offices here. We're targeting companies and organizations currently using 125 Khz prox that are looking at the benefits of moving to a very secure multiapplication contactless smart card. Specific areas include the Fortune 1,000, hospitals, universities, and manufacturers."
And of course with America's push for a more secure environment, the country seemed a natural next step for a company that got its start keeping people safe.
Added Mr. Neff: "LEGIC is planning further expansion into North America as the interest in secure contactless smart card technology is growing. It must not be forgotten that LEGIC has been supplying contactless smart card technology to many companies that have supplied equipment into the USA for many years. It is thus logical that LEGIC increases its formal presence in these markets now."
LEGIC's future tied to the continued growth of contactless
Concerning LEGIC's future elsewhere in the world, Mr. Neff said the company sees "an intrinsic growth rate in the contactless market that will have benefits for the whole industry and thus as the cake gets bigger so will the slice in terms of units sold and revenues. If the past years and our positive outlook are indicators, then LEGIC Identsystems Ltd in its market segment will continue to have a significant portion of the cake worldwide and stay the market leader."