Les Hôtels JARO goes contactless with Kaba RFID Locks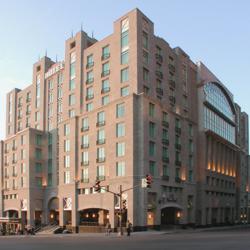 Kaba announced that Les Hôtels JARO in Quebec City, Canada has equipped five of its properties with its contactless RFID locking systems.
The hotel management company implemented ILCO 790 locks at three of its hotels – Hotel Quebec Inn, Hotel Quebec, and Hotel Must. The Hotel Palace Royal and its sister property, the Hotel Plaza Quebec, installed Saflok RT hotel door locks with Messenger LENS online wireless system.
The upgrade to Kaba's contactless system enables management to track all key usage and recode doors remotely if needed. RFID keycards also last longer than the company's previous magnetic stripe keys that were frequently being demagnetized by guests.
Les Hôtels JARO operates a total of seven hotels in Quebec City. The company's other two hotels, the Auberge Sir Wilfrid and Hotel Lindbergh are both scheduled for future upgrades to RFID technology.