LevelUp adopts NFC with new payments terminals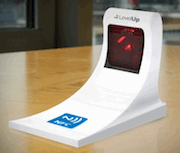 LevelUp, the mobile payments arm of Boston-based startup SCVNGR, announced that it will integrate NFC payments into its current QR code-based mobile payments system.
The company is now offering its merchant partners new payment terminals that can scan QR codes as well as handle NFC tap-to-pay transactions from any NFC-enabled mobile device.
Now, LevelUp member merchants can upgrade to the new terminals free of charge, and can use them with 0% payment processing fees, according to the company.
"It's always been super important to us to make LevelUp work for any and every consumer on the planet," said Seth Priebatsch, CEO of SCVNGR. "Our goal is to have LevelUp be the universal way to pay with whatever phone you may have, at whatever place you may be, whatever carrier you're on, whatever card you want to use and whatever technology you prefer."
LevelUp's network currently covers some 250,000 active users making payments at 3,500 U.S. merchants in cities across the country, according to VentureBeat,
Find out more about LevelUp here.