LG debuts NFC-enabled Intuition on Verizon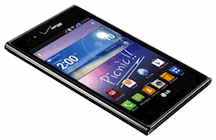 LG Electronics has announced a new NFC-enabled smart phone/tablet hybrid exclusively for Verizon – the LG Intuition.
The Android 4.0-powered Intuition boasts a 5-inch display with a 4:3 aspect ratio for reading e-books, watching videos, browsing the web, or reviewing presentations and editing documents using the Polaris Office app. Other features include a 1.5 GHz dual-core processor, 1GB RAM, 4G LTE, 8MP camera and NFC connectivity.
LG is shipping the Intuition with its LG Tag+ app and two programmable NFC stickers that can be used to switch between different phone modes – e.g. Car Mode, Office Mode, Sleep Mode, etc. – with a single tap. According to LG, these modes are customizable and can control Bluetooth, GPS, Wi-Fi and other settings.
The Intuition also features QuickMemo, an app that allows users to draw or write messages with the Rubberdium pen or with their finger on pictures, maps and websites and share with friends through text messages, social media or email. A similar Notebook app turns the Intuition into a virtual notepad for creating documents that can include text, drawings, images, annotations, video and voice clips.
The Intuition is now available for order on Verizon's website, and will be in Verizon Wireless Communications Stores starting September 10th for $199.99 with a two-year contract.