Libraries abandon the barcode in favor of RFID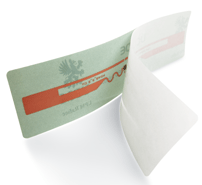 New technology facilitates self-checkout for patrons, automated re-shelving for personnel
By Andy Williams, Contributing Editor
If you haven't been to a public library lately you might be surprised what you find. You might find you can check out your own books and DVDs without the aid of a clerk. You might find a librarian quickly scanning a shelf of books to determine which have been misfiled or are missing. You might find that you can return your books at an off-site drop box and get immediate credit for having returned them. No more rushing to the library itself to avoid overdue penalties. This and more is already available to many library patrons courtesy of RFID.
Barcodes, once the library's main staple for keeping track of its media, are becoming passe. A small paper tag with an embedded chip is today's leading-edge option. And the move from barcodes to RFID is allowing libraries to increase checkout speed while improving inventory management and theft prevention.
Netherlands-based Royal Philips Electronics has been helping libraries sort and check out books for about 10 years. In June, the company released its next generation RFID chip for libraries. Philips serves more than 50% of the hundreds of libraries worldwide currently using RFID, according to Markus Luidolt, marketing manager for Philips Semiconductors' RFID Market Sector Team in Austria.
The new version of ICODE, the tag first launched in 1996-97, is called ICODE SLI-S. It includes enhanced security and privacy features with password protection, says Mr. Luidolt. The ICODE SLI-S also offers increased read performance and is specifically suited for a library's automated management of its media.

Self check-out, flexible returns, automated filing, and more
It's also what makes self-checkout a reality. "People can scan the RFID label on their own, then exit the library through a security gate," he said.
Anyone familiar with other in-store self-checkout procedures will have no problem using a similar system in an RFID-equipped library. A touchscreen guides the patron through the process: "Place your books here, place your library card here…" and you're done.
"Self-serve barcode systems never worked too well," adds Mr. Luidolt. "You had to scan each barcode, but with RFID you can check out everything at once."
In addition to self-service checkout, consumers can serve themselves when making returns. Here, the item is scanned in and automatically sorted by electronic sorting stations, saving library staff time. Librarians are freed to address other challenges, such as material identification and inventory and information storage.
The system works great not only finding lost books – or actually which ones are lost – but discovering which books have been misfiled. "In the past, you went through the shelves individually," says Mr. Luidolt. "Now, if you have sports books in the economics section, the system would recognize it."

Implementing the new solution from Philips
Migration to the new chip is easy, stresses Mr. Luidolt. "You can use (it) in the existing environment … check-in, check-out and security. The new chip uses the same infrastructure as the old chip in terms of detection." Only software changes are required.
The new password protection feature of Philips' new chip prevents unauthorized access to sections of the on-chip memory and allows only authorized parties to have the capability to modify the stored data. The password protection also prevents people from illicitly switching off the electronic article surveillance (EAS) anti-theft functionality.
That feature alone may be worth upgrading to the new system. "Most libraries that use SLI today and like the new IC will migrate over time," said Mr. Luidolt. "This means putting the new ICODE SLI-S on new media (replacement of media in libraries is in the area of 10-20% per year) without changes to the system. The system can handle both types easily as they use the same standard ISO 15693 & ISO 18000-3.1."
Without changing its infrastructure at all, libraries would have a "higher theft detection rate due to increased read performance," said Mr. Luidolt. "That's especially important for media like CDs and DVDs where detection is more difficult due to the metal content (of the media)."

The importance of read range in library environments
The new chip includes 2 Kbits of on-board memory with a 64-bit unique serial number and 96-bit, one-time programmable electronic product code (EPC). The ICODE SLI-S can be integrated into existing projects and offers reading speeds up to 200 labels per second using the EPC inventory command set and 60 labels per second with the fast inventory read command set, according to specs released by Philips.
The chip has a read range of about two meters, depending on system configuration. As to placement, on a CD or DVD, since it's a small label, "it's very specific on where the tag has to be. It should go in the middle of the CD since it will be a rather small label. You need to have the best possible RF performance because the label is smaller, meaning less read range," he added.
"The label on books can go anywhere, but most times it's fixed near the binding; so if you put it in a shelf, it can be easily read with a handheld reader," he added. That's got to be a joy for library clerks who, with the reader, can simply walk down a shelf of books, scanning as they go, instead of having to take each book off the shelf and physically scan it, as was necessary under a barcode system.
RFID's advantages over barcodes …
"Library systems worldwide are increasingly moving to standardized technology that is both ISO15693 and ISO 18000-3 compliant," said Mr. Luidolt.
One of the biggest advantages of RFID over barcodes is its durability. "Our very early experience out of Singapore is that some 10 million labels have been in use for seven years," said Mr. Luidolt. Compare that life span with barcodes that can get dirty and can be easily torn.
The cost per tag depends on volume (number of tags purchased at a time) but typically is 50 cents per tag or lower, he said. One reason for the pricier tags in libraries (compared to those used in the supply chain) is that the tags have to last a long time, said Mr. Luidolt. Supply chain tags need only last until the product is shipped and sold.
"Libraries can do more work with the same amount of staff," said Mr. Luidolt. It could also lead to longer operating hours. Several libraries in Singapore utilizing RFID, for example, are now open 24 hours.
Singapore currently has the largest RFID installation globally with more than 10 million labels in use. Other libraries using Philips' RFID technology include the public library of Shen Zhen, Jimei University Library in Xiamen, China, and the Munich Public Library.
Philips has also worked with a US system integrator, Bibliotheca, to supply the Jefferson County Public Library in Denver, Colorado with more than 1.2 million custom printed RFID book tags for use in ten libraries in the area. All public libraries in The Netherlands have adopted RFID in their systems as well as other libraries across North America, including Princeton, New Jersey; Oakland, California; Lexington Kentucky; and the Whitby Public Library near Toronto, Canada.
Upgrading from a barcode system to an RFID tag is pretty easy, concludes Mr. Luidolt. "You scan the barcode and an RFID label (is automatically) produced. It's done kind of on the fly, (so) not a lot of additional effort is required to make the change."