Lo-Q, MasterCard partner for contactless payments in theme parks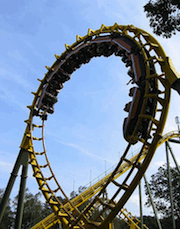 Lo-Q has signed a three-year Memorandum of Understanding with MasterCard to develop a new contactless payment solution for theme parks, water parks and other entertainment attractions.
The solution will combine MasterCard's PayPass contactless payments technology with Lo-Q's queuing software and systems, which enables guest to reserve their spot in a virtual queue rather than wait in line.
With Lo-Q's solution, theme park guests receive a "Q-bot" handheld device that they can use to reserve their place in line at rides and attractions so that they are free to wander elsewhere. Once their turn is up, the device buzzes and beeps to alert the guest.
Tom Burnet, Lo-Q plc CCEO, comments: "Visitors like our products and they get much more from their days out by leaving the queues behind and focusing solely on having fun. By combining these qualities with the world-class payment technologies and reach offered by MasterCard means that we can now work together to create new and exciting growth opportunities for both our firms."