London's O2 Arena rolls out contactless payments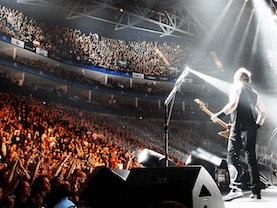 The O2 Arena in London has teamed up with Barclaycard and Visa Europe to introduce contactless technology in more than 250 card payment terminals across the venue.
O2 attendees can now complete purchases of £15 or less on anything from refreshments to merchandise with just a tap of their contactless credit or debit card.
According to O2, 75% of electronic transactions processed in the arena's concessions on show nights are under £15. Therefore, introducing contactless payments should result in shorter lines at bars, restaurants, merchandise stands, and even in the parking lot.
"The hospitality sector, with high volume low value transactions, and often lengthy queues, is the perfect environment for a technology that makes it quicker and easier for people to make payments," said Richard Armstrong, head of payment acceptance at Barclaycard. "As a result, we're confident that contactless technology will prove popular with visitors to The O2 Arena."