Loyalty goes high-tech with advanced ID technologies

Rewards can keep customers coming back and smart cards, cell phones can make it personal
By Andy Williams, Associate Editor, Avisian Publications
Loyalty programs are all about keeping customers. In a down economy, holding on to the business you have is more important than ever. While some businesses create their own loyalty programs, solutions providers can help do the heavy lifting and ease the burden that these programs can place on retailers or card issuers.
A new player in the loyalty market is working to tie retail loyalty to the consumer's mobile phone. "It's all about tethering the consumer to a brand via a mobile device," says Jay Highley, president and COO of loyalty provider Tetherball LLC.
Tetherball offers customers mobile coupons, mobile rewards (frequency or purchase-based), mobile sweepstakes, and mobile notifications.
Tetherball's approach is to target audiences by identifying what a business' customers want and then delivering a mobile campaign that involves interaction on the part of the customer. This is what Highley calls "permission-based mobile coupons" and can include rewards, sweepstakes and notifications.
Highley defines mobile loyalty as creating a trusted relationship with members. "These members have already held up their hands and said they want to hear from you, but do it in a way that's relevant to me and creates value," Highley says.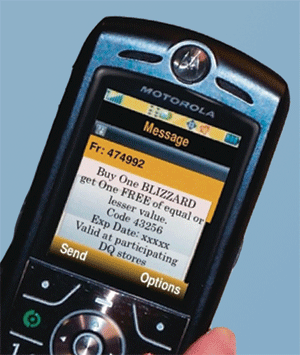 Tetherball is working with Dairy Queen (DQ) and Indiana-based Hotbox Pizza. "We're also doing work with McDonald's and a number of other national brands," he says.
What makes Dairy Queen stand out is that it's the first use of a contactless smart loyalty tag, a sticker that can be affixed to a cell phone to identify the user through Tetherball's platform, says Highley.
"The program is easy to deploy, easy for a user to sign up. A customer comes into a store, sees the POS displays for a free blizzard (milkshake). To join the DQ mobile rewards program, he texts a key word which says go to DQ," says Highley.
The customer comes to the Tetherball platform and follows the opt-in process. A text is sent to the DQ counter and the customer is presented with his own Tetherball tag, which he can attach to the phone.
"Once they get that tag, they then tether it. They text a unique ID number on that tag to tetherball tying it to the cell phone number. To redeem offers (that they receive on their cell phone via SMS message), they just wave the tag in front of a reader," says Highley.
Blizzard anyone?
Dairy Queen is using the loyalty program in a variety of ways. The chain is sending offers to customers to increase business during slow times. They also use it to reward frequency. For example, a location could offer a Blizzard special that's only good between the hours of 3 pm and 6 pm, explains Highley.
"One Dairy Queen (location) ran an ad for a free tax relief ice cream cone on April 15, tax day in the U.S. It had 112 members visit the store that day and more than 50% of those visitors purchased other products. That's the power of mobile," says Highley.
Tetherball clients are able to send offers to their customers or members via standard text messaging. These coupon-type offers are then redeemed electronically using contactless point-of-sale terminals or stand-alone kiosks provided by Tetherball.
Mobiquitous, a real time Web-based reporting system, delivers the coupon redemption rates and overall program performance. It provides clients with real-time visibility so that they can adjust quickly and leverage the real time nature of mobile marketing. "When you login you can see your stores and see what offers are working, your redemption rates. It opens up a whole new dimension of analytics and usage and it gives the retailer a chance to customize what his member receives," says Highley.
Tracking is accurate and real time. "That's the significant difference between other forms of couponing which can take you weeks to gather that information."
Tetherball also ensures that only the intended user redeems a coupon. "The coupon can't be forwarded, it can't be copied, you can't use fake codes and it can't be sold online. It even prevents theft at POS, such as an employee giving away free product to a family member," says Highley.
One tag can also serve an infinite number of loyalty programs, says Highley. For example, even if a tag is obtained at Dairy Queen it can be used at other retailers that are associated with Tetherball as long as it's registered.
"We've only seen six percent of members electing to opt out … to put it another way, 94% have stayed in the program. That's going back two years when it was first created," says Highley. "Those are game-changing types of numbers that demonstrate the value of what we're delivering for our clients."
Welcome's solution builds loyalty to one payment card over the others
Welcome Real-time started 12-years ago in Aix en Provence, France. According to Aneace Haddad, Welcome's founder and chairman, the company was launched to help retailers get marketing value out of their point of sale systems and payments infrastructure. In the late 1990s, Welcome applied its expertise in smart card technology to help banks get a better return on investment from the mandated migration from magnetic stripe cards to chip cards. Since then, Welcome has focused almost entirely on banks.
Called Welcome XLS, the software offers instant rewards when a cardholder conducts a transaction, explains Sebastien Slim, vice president, product marketing. Loyalty through payment cards can be achieved through a variety of cardholder rewards, including gift cards, discounts, e-coupons, cash back and points.
Generic campaigns are driven by the transaction amount and provide bonuses when the customer reaches a predetermined threshold. Other campaigns provide rewards based upon a cardholder's purchasing behavior, his last visit, number of visits, amount spent and quantity of items bought per visit. There are also event-driven campaigns that are dependent on times and events, for example, first card use, birthday and even a happy hour, says Slim.
Coupons or e-coupons can be issued through a point-of-sales terminal, ATM, mobile device, Web site as well as via more traditional marketing channels, such as being mailed with a statement.
In the beginning, Welcome's solution was geared around contact chip cards and offline transactions. Today, the company supports any card technology. "Most of our customers using chip cards are now using our online solution whereby the customer data are stored on our server and not on the chip. The main reason for this is that we can support 'Card Present' transactions as well as 'Card Not Present' transactions in the online configuration. Also banks do not have to reissue cards," says Slim.
Many licensees, many uses
Right now, Welcome has about 30 licensees worldwide, including Visanet Brasil, Maritz, which handles Welcome in the U.S. and Canada, Barclays in the UK, Alphabank in Greece, PBZ bank in Croatia, BPI Bank in the Philippines, Venture Infotek, a transaction processing company in India, and the National Commercial Bank of Saudi Arabia.
There are a variety of reasons that banks offer Welcome's loyalty programs, but most do it to differentiate from the competition, Slim says. "Visa in Brazil went with our solution to compete against MasterCard. It was a way to enhance existing payment systems," he says.
Interswitch in Nigeria, another Welcome client, uses the solution to promote payment cards. "It's not Visa versus MasterCard here," says Slim. "Cash is king and they're trying to incentivize the use of electronic payments as opposed to cash."