Lumidigm adds certified SAP connection to fingerprint readers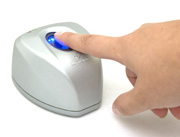 Lumidigm has added bioLock software to its fingerprint readers, making them certified by SAP for authentication purposes.
The bioLock software manages SAP user identities with biometrics to help prevent insider fraud in areas such as inventory shrinkage, payroll, financial fraud or data loss. The software can manage both the log-on process, as well as re-authentication at more granular levels within an SAP environment.
The software works with fingerprint readers in either a desktop USB version or in a kiosk application. It's targeted toward customers in SAP banking and mission-critical applications that require strong authentication.