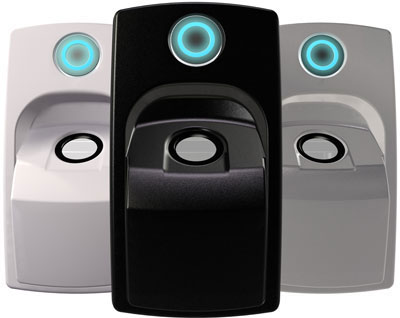 Lumidigm announced that i-Evo is using the company's multispectral imaging sensors to produce a line of fingerprint readers that can be used both indoors and outdoors, including in harsh environments that render most biometric readers inoperable.
The i-Evo team has kept the design of the biometric fingerprint readers simple, resulting in units that are small, require minimal training, are easy to install and inexpensive. Also "plug-and-play" installable, i-Evo readers integrate easily with existing card and fob systems.
Lumidigm multispectral fingerprint sensors capture fingerprint data beneath the surface of the skin so that dryness or even damaged or worn fingers create no problems for reliable reads. Using multiple wavelengths of light and advanced polarization techniques to extract unique fingerprint characteristics from both the surface and subsurface of the skin, Lumidigm's sensors provide results that are more consistent, more inclusive and more tamper resistant than conventional biometric readers.
i-Evo biometric readers are employed by a variety of customers, including schools, corporate buildings, universities, hospitals, apartments, perimeter control, construction sites, office blocks and others throughout Europe and beyond.