M6 toll road goes contactless with Barclaycard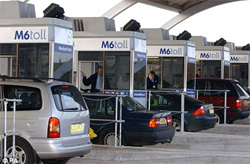 The M6 Toll (UK) worked with Barclaycard to install easy-to-use contactless payment terminals at toll booths, enabling customers to pay for their journey by simply holding their contactless credit and debit cards over the terminal.
The roll out of contactless terminals follows a successful trial which resulted in reduced waiting times and simplified the processing of payment. All lanes designated for card payment have been equipped with contactless readers.
Over 40,000 drivers benefit from the ease and reliability of the M6 Toll every day. On average, half of these drivers pay by card, said Tom Fanning, Chief Executive of the M6 Toll.With contactless payment technology, M6 Toll road users are able to pay for their journey by simply holding their card over a reader without the need to enter a PIN or sign their name.
The contactless terminals at the toll payment plazas will not only cut queues, but will also help drivers avoid the frustrating scrabble for change, said Eduardo Vergara, CEO Global Business Solutions, Barclaycard.