Madrid airport to deploy iris biometric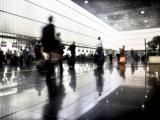 Hoyos Corporation announced a partnership with Herta Security to implement iris scanning technology in airports in an attempt to solve airline security issues and create a secure process from check-in to boarding, says Jeff Carter, chief development officer at Hoyos
Hoyos and Herta are creating a pilot program to run in Barajas Airport in Madrid, Spain. The pilot program is expected to roll out in early 2011 and uses Hoyos' biometrics technology to increase airline security and improve the passenger boarding process.
Exactly how the program would operate hasn't been determined, Carter says. It would most likely involve travelers enrolling in a program and providing various documents to prove identity.
The program in Spain will be based on Hoyos' tests on the Mexico and U.S. border with the Mexican immigration officials, Carter says. The pilot just ended a few weeks ago and Hoyos was able to identify up to 50 people per minute. "The test helped us understand how to set up lanes with high amounts of traffic," Carter says.
The iris system was used to help determine unusual patterns for Mexican citizens crossing the border, Carter says.