Markes releases new RFID-enabled chemical analysis instrument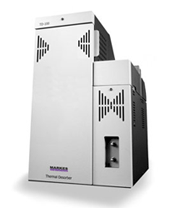 Markes International Ltd. has launched its new RFID-enabled thermal desorption (TD) instrument for gas chromatography (GC).
The new TD-100 has been designed for the sampling and analysis of trace toxic and odorous chemicals (VOC and SVOC) in air/gas and materials. The instrument is used in materials emissions testing (for example, ensuring compliance with environmental regulations), environmental/indoor air monitoring, workplace air monitoring, food, flavor and fragrance profiling, and forensics.
The TD-100 features RFID sample sorbent tube tracking technology (TubeTAG) that uses RFID tags to track sample tubes and ensures that no errors are made in sample identification.