MasterCard PayPass leaps into Azerbaijan marketplace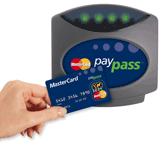 MasterCard announced it will soon release PayPass bank cards using contactless payment technology to the Azerbaijani market, according to Trend.
The technology is = used in 48 countries and will be new to the Azerbaijani market when it is introduced in the first half of 2013.
PayPass enables MasterCard cardholders to "Tap & Go," paying for goods, work and services in the retail and service businesses without having to swipe the magnetic strip or provide a signature.
MasterCard says the use of contactless payments will be ideal for Azerbaijani consumers at PayPass-accepting merchants including the local cinema, fast food outlets, supermarkets, and taxi.