MasterCard plans display cards for U.S. consumers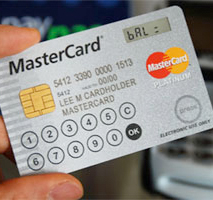 MasterCard has plans to help banks issue consumer credit cards in the U.S. with an embedded LCD display, reports MSNBC. The display card will provide real-time information such as current balance, recent transactions, and even special messages from banks or coupon codes from merchants.
The new screen-enabled card also brings additional features focused on enhancing security during online transactions. The card will generate a dynamic, one-time card verification value code for every online or telephone purchase. Criminals who steal these CVV codes in databases of old purchases will find the data can no longer be used for online crimes.
The display is able to endure the everyday abuse that comes with sitting on cards in wallets, stated Cyril Lalo, CEO of NagraID Security, which created the cards. He added that they are also able to withstand the occasional trip through the rinse cycle of your washing machine.
Similar cards are already in use by Asian and European banks. U.S. trails are expected to begin by April and become widely available by the end of the year.
Read the full story here.