MasterCard survey shows commuters in favor of contactless payments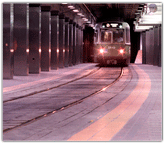 survey conducted on behalf of MasterCard Worldwide by Harris Interactive reveals that U.S. transit riders are ready to kick cash to the curb in favor of contactless payments. Commuters also want to consolidate their mass transit tickets into one card that can be use across multiple transit systems.
The MasterCard Transit Survey evaluated common pain points transit riders have experienced when relying on cash to pay for their trip, including: nearly 65% of U.S. commuters worry about not having enough cash on hand, while more than 36% have actually been unable to take mass transit because they did not have enough cash on hand.
"From our survey, we know that commuters want a better way to buy their fare," said Catherine Murchie, senior vice president, MasterCard Worldwide. "Open-loop contactless payment options eliminate the need to wait in line, fumble for exact change or carry multiple fare cards so that it easier to board and be on your way."
In addition, U.S. commuters feel they spend too much time waiting in line to buy or add money to their fare card. The survey indicated more than 44 percent U.S. commuters have missed a bus, train or subway while waiting in line to buy or add money onto a fare card.
When presented with the option to use a contactless payment option instead of cash on their daily commute, 75% wish there was one payment card that could be used to access all mass transit systems near or within their local city. Nearly half of all commuters – 47% – say they would use their mobile phone to pay for mass transit.