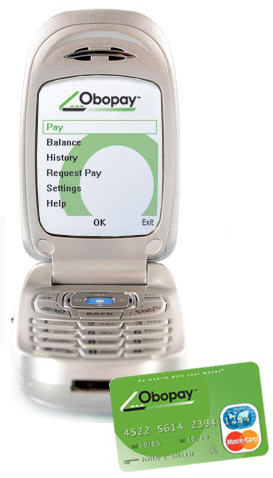 MasterCard has reached an agreement with Obopay Inc. to offer an on-demand person-to-person mobile payment service in the United States. The service, offered via MasterCard MoneySend, will enable MasterCard issuers to provide a mobile payments service to their MasterCard cardholders on all credit, debit and prepaid MasterCard-branded products.
The new Mobile MasterCard MoneySend Person-to-Person service will enable participants to send and receive funds through any registered cardholder's mobile phone. Participants will use mobile numbers to send and receive funds, keeping their payment account numbers private.
A recent TowerGroup report estimated that in the United States, adoption of consumer mobile banking has quintupled in the past 12 months from 1.1 million active users in 2007 to 5.7 million active users today. As mobile consumers become increasingly comfortable with converging technologies on their mobile devices, the opportunity to develop mobile payments systems will continue to grow. MasterCard hopes this new agreement will access a large portion of this growing market.
"Our strong partnership with Obopay takes the development of the mobile person-to-person payments framework to the next level," said Art Kranzley, Chief Emerging Technology Officer at MasterCard Worldwide. "We will launch this new service with our financial institution customers and Obopay in the near future."