MasterCard's OneSMART Paypass technology links with Moneta in South Korea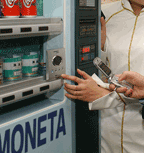 MasterCard's expansion in South Korea with its OneSMART PayPass signifies the credit card giant's roll out of not only its new payment technology, but also a new role in cell phone payment processes. This will mean more benefits for the company's 14.78 million MasterCard-branded cardholders in Korea.
A March agreement with SK Telecom, has given MasterCard greater inroads into the South Korean market. This agreement "will further expand MasterCard chip card acceptance and payment services in Korea," said MasterCard's Christina Rae. "This will be done through the upgrade of the merchant network to accept MasterCard's chip payment application, M/Chip. In addition, MasterCard will also rollout its M/Chip standard contactless payment program, MasterCard OneSMART PayPass on SK Telecom's existing payments infrastructure."
That means MasterCard, which has been in South Korea since 1991, will have access to SK Telecom's Moneta, described by Ms. Rae as a "mobile payments service," which will allow cardholders to process their payment transactions via a MasterCard or their mobile phones, not just in South Korea, but "at PayPass merchants globally, thus increasing their payment options and maximizing their convenience."
MasterCard last year rolled out its PayPass card in the U.S. at McDonald's and several other U.S. businesses, following a lengthy trial run. So, SK Telecom users would be able to use their cell phones as a payment device in the U.S. at Paypass-accepting locations.
But MasterCard's OneSMART PayPass is really designed for Europe and other markets where EMV migration is underway. This M/Chip-equipped card enables customers in regions where EMV smart cards predominate, to gain more benefits from contactless payments.
"The card was developed to offer PayPass functionality for countries investing in EMV, while retaining the benefits of an EMV transaction flow for merchants and issuers," said Ms. Rae.
What's involved in upgrading the merchant network to make it compatible with the M/Chip and OneSMART?
"The current SK Telecom merchant network will be upgraded to embed MasterCard's M/Chip application (MasterCard's credit and debit payment application chip) onto SK Telecom's chip-based SIM cards on SK Telecom's mobile phones," said Ms. Rae. "SK Telecom will also enhance its terminal readers to support the MasterCard OneSMART PayPass contactless payment program on their existing payments infrastructure and terminals."
More on Moneta
As for the Moneta mobile payments service, as explained by Ms. Rae, it involves two SK Telecom credit SIM cards, "which consist of the mobile phone interfacing with 'Dongle'-style readers – off-line devices set up at merchant locations such as Starbucks, etc. This enables mobile phone users to make their purchases with their mobile phone easily."
She said Moneta is a smart chip-installed mobile payment service that allows customers to make payments with smart chip-inserted cellular phones. According to SK Telecom, Moneta is a "wired and wireless integrated service" that lets its customers "access a variety of financial services" via their cell phones. Some of these services include stock trading, financing, investments, insurance financing, and financial consultation among others.
"Moneta also offers an 'm-banking' service where mobile phone users can perform online banking services, using their SK Telecom mobile phone," said Ms. Rae.
"MasterCard together with SK Telecom will work to develop new mobile payment models to enable MasterCard cardholders in Korea to use Moneta," she added.
SK Telecom is one of South Korea's largest telecommunications companies that is committed to becoming a global player, especially throughout Asia," she said. It is in 20 different markets worldwide, including the U.S., France, Israel, Japan, and China.
For additional information on MasterCard's OneSMART PayPass, click here to read an article from the March 2005 issue of ContactlessNews.