MasterCard's PayPass moving toward a "staged national rollout" in U.S.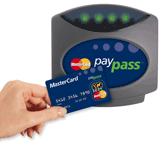 After successful trials in Orlando and Dallas, MasterCard's PayPass is ready for national prime time with one of the nation's largest restaurant chains helping to kick off the rollout. Participating McDonald's restaurants in Dallas and the New York metropolitan area will implement MasterCard PayPass later this year, with additional locations to be added in 2005.
MasterCard PayPass cardholders will be able to make purchases at participating McDonald's restaurants without swiping their card through a traditional card reader. PayPass cardholders tap or wave the card on, or near, a specially equipped terminal that utilizes a contactless chip to complete a payment transaction. McDonald's will have Verifone Omni 7000 card-readers installed to accept the new MasterCard PayPass card. The PayPass payment option is an expansion of McDonald's partnership with MasterCard in the U.S., announced earlier this year.
The McDonald's expansion is based on the Orlando trial conducted earlier this year and last. The project reinforced the commonly held notion that a prime beneficiary of PayPass, or any contactless payment technology, is the fast food industry where speed is essential.

"During our trials in Orlando and Dallas," said Betsy Foran-Owens, vice president, Product Services, MasterCard International, "we learned much about the consumer, retail and issuing experience of MasterCard PayPass." While the "majority of this information is proprietary," she added, "we did confirm that the benefit of MasterCard PayPass is maximized at quick-pay locations, rather than traditional retail stores, that were formerly the bastion of cash transactions. Our merchant efforts have been focused therefore on these types of merchants. PayPass is the perfect payment solution in areas where speed is essential, such as movie theaters, fast food restaurants, and gas stations."
Ms. Foran-Owens presented some updated stats on the Orlando and Dallas trials, figures that show why MasterCard is bullish on contactless.
The Orlando trial, involving 60 retail locations and 16,000 MasterCard cardholders, found that the new concept prompted infrequent card users to pay more frequently with their card and that it achieved "top of wallet" status. At drive-thrus, PayPass cut 12 to 18 seconds off purchase times compared to cash, very important for merchants and consumers, she reported.
"For merchants, speedier transactions … attract new customers and help merchants lower their costs and improve productivity, because employees handle less cash," she added.
"Trial results (now concluded) are the reason for our enthusiasm," she added, such as "an 18% activation rate on formerly inactive accounts, nearly a 23% increase in transaction volume and an even greater increase, 28%, in total weekly spending."
The terminalization process
"We also learned," Ms. Foran-Owens said later, "that certain terminal types more reliably deliver an optimal MasterCard PayPass experience than others. We have incorporated these (findings) into implementation guidelines for our customers."
She calls this "the terminalization process" which, she says, ensures "a quality MasterCard PayPass experience at the point-of-sale for consumers and merchants."
Therefore, MasterCard's prescription for an effective POS, she added, includes: "MasterCard PayPass readers and terminals that are integrated with cash registers, eliminating the need for double entry of purchase totals; high-speed authorization lines, such as DSL, V-SAT, leased lines, or cable modems; and high-speed receipt printers."
PayPass relies on the ISO/IEC 14443 standard. In North America, where the majority of transactions are authorized online, the payment application data is based on the magnetic stripe information with additional security data. Atmel Corporation, San Jose, Calif., supplied the secure contactless microcontroller used in the PayPass deployment and partnered with On Track Innovations Ltd., Frankfurt, Germany, to provide the operating system, application support and inlay technology. The contactless chip used is an 8-bit secure microcontroller from Atmel's AT05SC secure product family. Atmel and OTI provide the chip in both a contactless module form and in an inlay form.
Using affinity relationships to drive contactless payments
The credit card giant isn't relying strictly on merchants to kick-start its contactless PayPass program during its national rollout.
"MasterCard continually explores opportunities to leverage the brand's broad spectrum of sponsorship properties to bring new solutions, such as PayPass, to life," said Ms. Foran-Owens. "Utilizing our new NFL team relationships, MasterCard has joined MBNA and the Philadelphia Eagles to launch the Eagles Extra Points Rewards Program, featuring MasterCard PayPass."
Using MasterCard PayPass, Eagles' fans "won't miss any of the action, as they simply tap their payment card on the specially equipped merchant terminal and speed their way through concession line," she added. "Each of Lincoln Financial Field's permanent concession stands has been terminalized to accept PayPass. Additionally, fans will also have the opportunity to accumulate Eagles reward points when using the MBNA's NFL Extra Points rewards card."
But Eagles fans also have a second contactless choice: PowerPay from Smart Systems Technologies. The contactless tag is in use at several NFL stadiums, including Philadelphia.
"We have an agreement with MasterCard and the Eagles to use PayPass," said Smart Systems' President, Mark Johnson. "We've integrated PayPass software into our firmware. It will read not only PowerPay but PayPass and is part of our whole platform of interoperability. We're building a standardized 14443 platform and will be interoperable with all RFID-based payment markets," he added (Read more about the Eagles program in the Contactless News article titled, Contactless payments now accepted at three NFL football stadiums).
Other PayPass progress and information
Regarding the shape of MasterCard PayPass payments, Ms. Foran-Owns commented: "As issuers put MasterCard PayPass into their cardholders hands, they will have made strategic decisions, based on their individual business cases, about what device will best serve them and their customers. Some may choose cards, others may choose alternatives to cards including fobs, tags and cell phones (as in the Dallas trial). Either way, MasterCard and the vendor community are working with our customers to issue quality solutions that will deliver against the MasterCard PayPass promise of speed and simplicity of use."
In Dallas, MasterCard's purpose was to explore non-card uses. The company teamed with Nokia, AT&T Wireless, and JP Morgan Chase to integrate PayPass into Nokia mobile phones via a contactless chip embedded in the phone's cover. PayPass phone payments were six seconds faster than payment cards, said Ms. Foran-Owens.
There has also been talk about PayPass moving into Canada, possibly within the next 12 to 18 months as one Canadian publication has reported. But Ms. Foran-Owens was reluctant to discuss this and other future PayPass adoptions in other parts of the world.
"Around the world, MasterCard works with its customers to provide solutions to help them retain and grow their business, including MasterCard PayPass," she said. "Specific bank initiatives cannot be discussed until they have been made public."
Until then, MasterCard will continue what she calls a "staged national rollout of MasterCard PayPass." It will be done, she added, "on a market-by-market basis."