McDonald's tests mobile payments with PayPal in France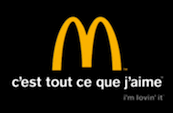 McDonald's has begun testing a mobile payments service from PayPal at 30 of its restaurants in France, according to Reuters.
Using a McDonald's smart phone application, customers at these locations can place their orders remotely and pay via PayPal, then pick up the order in a separate line at the restaurant. The service also lets customers place their orders online from a computer, according to a McDonald's spokesperson.
Earlier this year, McDonald's and PayPal demonstrated a more in-depth version of the service at McDonadl's franchisee conference in Orlando, Fla., in which customers could pay for their orders using a PayPal digital wallet.
Other retailers that have tested PayPal's mobile payments service include Home Depot, Office Depot, and more than a dozen others, according to Reuters.
McDonald's, which boasts over 33,000 restaurants worldwide, would easily be the largest of the bunch should McDonald's opt for a full roll out. The move would also provide a counter to Square's major push into the mobile payments space with Starbucks.
Read more here.