McDonald's to accept ez-link card payments islandwide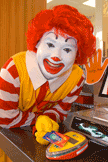 McDonald's restaurants across Singapore will begin accepting the ez-link contactless card for payment. This is a major step forward in the continued migration of ez-link from its foundation in the transit payment arena to non-transit venues.

McDonald's today announced that most of its restaurants and McCafés islandwide will begin accepting the ez-link card with immediate effect. By mid June, ez-link card payment will be available at all McDonald's Restaurants. By doing so, McDonald's becomes the first in the fast casual restaurant industry here to accept the ez-link card as a payment mode in its restaurants, including its newly opened stand-alone restaurant at the West Coast Park.
"We are keeping our eyes focused on uplifting the overall restaurant experience by providing our customers with services that are relevant to their lifestyle. Over and above quality food and value, we want to continually explore initiatives that can make customers' visits to McDonald's easy and convenient as well as delightful and fun. Practically everyone has an ez-link card, so by accepting it as a payment mode, customers now have another practical use for the card beyond travelling on the bus or MRT," said Bob Beard, Country Manager, McDonald's Restaurants.
"With the IT-led customer loyalty programme we are developing, the ez-link card will take on another dimension as a value-add card. We would like to show customers that we care and want to continue to connect with them in fresh, relevant ways. This is certainly timely given our 25th anniversary in Singapore this year," said Bob Beard. Details of the loyalty programme will be announced prior to its launch later this year.
The ez-link card, introduced in April 2002 for use through the public transport system, makes use of the contactless smart card (CSC) technology. With some 5.9 million cards already in circulation today, the ez-link card has the highest wallet penetration of any payment or non-payment related cards in Singapore. Other establishments that accept the ez-link card for payment include the National Library Board, cinemas, photo developing kiosks and 12 schools.
"QB is pleased with the partnership with McDonald's to introduce a revolutionary way for consumers to pay for their meals using their ez-link cards. This launch with McDonald's is one of the more important milestones QB is focused on to make payment easier for consumers," said Norma Sit, Chief Executive Officer, QB Pte Ltd.
"We (QB) also believe that this launch with McDonald's will pave the way for other merchants to climb onboard to accept ez-link payments. This will enable us to continue serving consumers, making their lives even more convenient. We believe that ez-link card payments will become a way of life in Singapore at retail point-of-sale. With this launch with McDonald's, QB has significantly taken the ez-link card beyond a fare ticket for public transport to becoming a mainstream payment alternative," said Norma Sit.