Meesons develops biometric staff security portal for Manchester Airport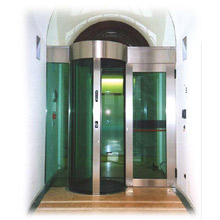 Leading security doors and screens installation company, Meesons, has implemented the UK's first iris biometric access control portal. The solution has been designed and fitted for controlling and monitoring staff access to restricted areas at Manchester Airport. Working with HumanRecognitionSystems Ltd (HRS) and CEM Systems, Meesons developed an integrated security and personnel management system that will be used by more than 25,000 staff.
The biometric access control system enables Manchester airport, one of the largest airports in the UK, to transit staff from airside through to landside safely and securely. The solution incorporates single person volumetric access control portals combined with iris recognition cameras, allowing staff access into restricted zones.