MicroPass 4003 ready for MasterCard PayPass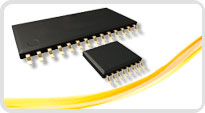 INISIDE's MicroPass 4003 Receives MasterCard PayPass Certification
The next-generation MicroPass 4003 contactless payment microprocessor from INSIDE is ready for deployment for all PayPass products. Designed to meet multi-payment brand and multi-application requirements of the U.S., Canadian and other contactless payment markets, the MicroPass 4003 payment platform enables card manufacturers to rapidly deliver MasterCard PayPass approved products into the market.
INSIDE Contactless has improved the security capabilities of its intelligent hardware platforms such as the MicroPass 4003. It incorporates new security enhancements developed in cooperation with MasterCard in conjunction with its CAST compliance.
With INSIDE's completion of digital and functional testing and type approval for PayPass, the MicroPass 4003 enables card manufacturers to more easily obtain final approvals from MasterCard for manufacturing PayPass cards. Further, a packaging configuration of MicroPass 4003 with an INSIDE-designed half-size antenna has been pre-approved for use by MasterCard-qualified card manufacturers.
The INSIDE Contactless MicroPass 4003 contactless payment card microprocessor is available now.