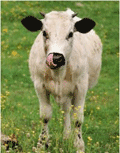 Cattle farmers in the Maharashtra and Thanjavur district of Tamil Nadu are using RFID technology to regulate and monitor cattle nutrition, and to create higher yield on quality milk, according to an article from The Economic Times.
Overeating can lead to fatal diseases such as enterotoxaemia, but an insufficient diet can also lead to complications. Utilizing RFID technology, farmers can monitor when cattle interact with feeding machines to determine if they are receiving the correct amount of nutrition.
With the use of RFID technology cattle are tracked closely, their feeding habits analyzed and their health problems known. With this knowledge, better nutrition could be provided resulting in improved health and higher yield.
Dairy farmers also manage breeding, which is very important in yield management. Using RFID technology, farmers are able to track a complete life history of cattle across generations, giving them an advantage in selective breeding.
The BG Chitale Dairy, located in the Bhilavadi Village of Sangil Maharashtra, has already tagged nearly 7,000 cows and buffaloes and is expected to have around 50,000 tagged over the next five years.
To get the full story click here.