MissionTix debuts reusable ticketing wristband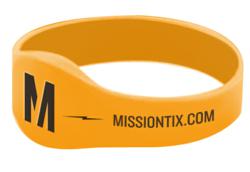 MissionTix, a Baltimore-based ticketing service, announced a new reusable ticketing wristband, containing a unique NFC chip to offer an alternative means of entry for ticket buyers at participating venues.
When a customer buys a ticket for a participating venue through MissionTix.com, instead of them choosing print-at-home, or mailed hard tickets, they'll be able to fill-up their wristband and wear it to the venue where it is scanned and authenticated.
The wristbands can be purchased for a one-time nominal fee and are tear- and water-resistant, providing a long duration of wear. Ticket buyers wear the wristband to the venue where it is validated with the use of an NFC Reader.
This single, secure ID can be used for multiple events. Working together with Skycore LLC and its codeREADr app, MissionTix also hopes to provide other value-add services, including stored value within the venue or with local merchants.
MissionTix's partners that have signed on to use the NFC wristbands thus far include the Recher Theatre and Ottobar.