MIT researchers develop sensor to monitor freshness levels in produce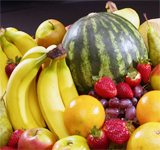 A group of graduate students at Massachusetts Institute of Technology (MIT) are working to develop a new type of sensor using RFID technology to monitor freshness levels in fruits and vegetables, according to scdigest.com.
The team, lead by MIT chemistry Professor Timothy Swager, say the sensor operates by detecting tiny amounts of ethylene, the gas that promotes ripening in plants. The sensors are attached to boxes of produce and scanned with a handheld device, which reveals the contents ripeness.
The information could them be used to by grocers to determine when items should go on sale, before they get too ripe and no one will buy them at any price. This helps by reducing uncessary spoilage and the amount of fruits and vegetables that have to be thrown away; and better ensure consumers get fresh product.
"If we can create equipment that will help grocery stores manage things more precisely and maybe lower their losses by 30%, that would be huge," says Swager.
Read the full story here.