MIT tries to bring NFC to every day life
The school's Mobile Experience Lab explores the future of life with the mobile handset

Most trials of near field communication have involved payment applications at the neighborhood department store, restaurant or transit agency. The Massachusetts Institute of Technology in Cambridge took a different tact, however, attempting to illustrate the many other ways NFC could be used in everyday life.
The result was a video featuring several students and how they utilized NFC-compliant cell phones. Right now, it's more a vision on how NFC can influence the lives of citizens, says Federico Casalegno, director of MIT's Mobile Experience Lab and one of the movers behind this NFC project.
The lab was created to close the breach between the university and industry. "Our group was to imagine new products and services for mobile phones three years out," he says. "We wanted to know how users could take advantage of this new technology. We have a technology that is pretty secure and what we're looking into is how we can use it to improve human experiences."
The MIT Mobile Experience Lab got a huge lift from one of NFC's biggest boosters, Nokia, which already has NFC-compliant phones in production.
"When we started this project with Nokia, we were asked to provide a vision of life of an MIT student using an NFC cell phone," says Casalegno. That was early 2008.
"We developed some scenarios on how NFC can support human activity," he adds. Some of the areas reviewed included movie guides, music, health and safety. Along with the video, a white paper was issued which explores more detailed NFC uses. It lists seven categories: ubiquitous information, health/safety, networking, e-money, smart mobility, entertainment and smart objects. All are illustrated in the video.
"We were discussing with Nokia how to bring forward some of the examples, how they can be tested in real life and how the services can be better designed," says Casalegno. "We know that this technology will probably mature in 2009 or 2010. We really want to understand how this technology can facilitate everyday tasks."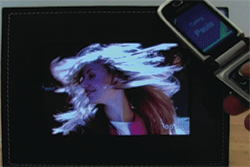 The whole project, from initial planning to script writing to shooting the video, took a couple months and involved a group of five students. That included the two actors who played John and Sara in the make-believe NFC world.
The short movie shows Sarah and John as they go through their day one year in the future, when NFC is seamlessly integrated with all aspects of student life.
From the moment John wakes up, he uses NFC. He starts his MP3 player with his cell phone, then simply taps his phone against a picture of his girlfriend to give her a call.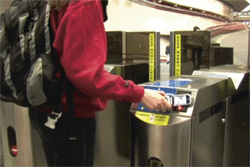 Other uses include the subway, tapping the phone to pay for a trip; the gym where Sarah's gym workout can be uploaded to her cell phone; tapping a poster of Boston's bus system to see when the next bus is due; exchanging information between cell phones; playing a multiplayer game with another NFC-enabled phone by simply tapping the two phones together to initiate the game, and more.
In addition to monitoring daily calorie consumption, which could be saved to a personal Web profile, there could also be tags on food providing specific data on calories and nutritive elements.
The ubiquitous information category featured in the video covers tags attached to pictures or exhibits in a museum to tags attached to various tourist exhibits about town all which can be accessed by a tap of the phone.
At a museum you could order a lithograph of the painting you're viewing by tapping a tag affixed to the frame. The same type of system can work in a public library as well as on posters advertising movies, again providing you useful information simply by tapping a tag on the poster or a library book or shelf tag. Ditto for DVD movies in a video store or music CDs. Tap a tag and download a movie trailer or a song sample.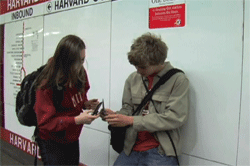 "We explored monitoring calories, using the phone as a peer-to-peer security system, using the phone as a Breathalyzer to prevent DUIs," adds Casalegno. The phone could automatically dial a taxi or friend for a ride home if you fail the test. "We also explored e-payments."
It's possible to exchange money with friends or colleagues by tapping the phones together and choosing the amount to be transferred, he adds.
Everything in the video is feasible now, albeit in many instances in just a prototype format. "But paying for transit or exchanging data through your phones or making payments, even networking and gaming are all available now," says Casalegno.
The reaction to the video and to the research lab's conclusions has been positive so far, he says. But he admits that more needs to be done.
"We've focused mainly on the positive aspects of NFC, but with a new technology, you can open a variety of issues, including negative aspects. That will probably be one of our next projects."
He says the team's next goal is " to prototype something that we can test in a real world environment."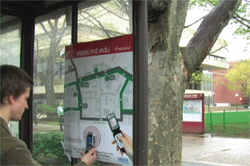 One possible idea is to explore "how users can ride together and maybe collect eco points or monitor their eco footprint or their environmental impact," says Casalegno. "You can monitor how many times you use public transit, or a private car versus a shared car or bicycle program. You could even have a friendly competition among users about who is collecting more eco-points."
Another biggie is contactless payments converging with the phone which means "less things in your pocket," he adds. This highlights how different services could converge to improve quality of life through NFC … and that seems to be the ultimate finding of the MIT project.
Potential NFC applications
Safety: the phone on a campus emergency pole to contact a police officer that can guide you home.

Food on-the-go: Order the meal from your desk from a menu with tags included. The phone call is made and the meal is ready when you pick it up.

Get your bike from the rack tapping the phone on the service pole. Monitor your movements inside the city or check the bike's availability near you.

Car Pooling: Publish your proposals for car pooling, search for people who are also going where you need to go.

Smart objects: In addition to having your phone dial the number of the person in a picture, you could also send a text message to that person. The same system can work for bulletin boards, providing a shortcut for announcement details or contact information.

Door authentication: You can manage access to restricted areas and monitor the presence of students to compulsory lessons, exams or workshops.

Vending Machines: No problem with NFC. Get further information on the products being sold or obtain discounts or other coupons before you make your purchases.

Carbon footprint monitoring: Track your footprint by your choice in transportation. Other potentials explored by MIT include using it with Zip Car, a car sharing service, allowing you to check availability, then rent and pay for the car.
---
Below is the video that was produced

A day at MIT with Near-Field Communication from MIT Mobile Experience Lab on Vimeo.