Mobile, Local, Social … Modern market trends drive Google to NFC
"We are committed to NFC at Google." That is what the company's Vice President of Payments Osama Bedier, told an audience of bankers and mobile operators in London on a summer afternoon.
Less than a month following the announcement of Google Wallet and Google Offers, Bedier was nothing short of a rock star at the NFC Payments Europe event organized by NFC Insight. It was, in a strange way, both encouraging and pitiful to see the banks and mobile operators laud the Google announcement.
He was praised for his insistence on openness, interoperability and the 'help us, help you' nature of the offering. To the side, however, the same proponents expressed concern.
"(Google) doesn't understand the complexities of the ecosystem."
"They just want our customer purchasing data."
"They want to control it all, just like Google … oh wait, they are Google."
Bedier says he is surprised by all the attention paid to the announcement from consumer media outlets. It was made at a B2B event designed to spur on the ecosystem by attracting more partners, he explains.
But this surprise, while ingratiating, cannot be totally genuine. He came to Google via Paypal, so this is not his first foray into disruptive payment technologies. He has riled the banks before.
Certainly he would have had some inkling that the words Google, near field communication and payments in a single press release would garner attention … even on Bing.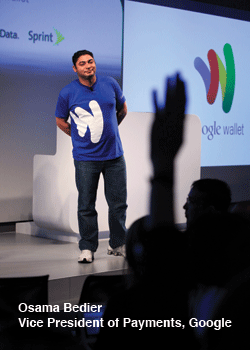 But why payments, and why now?
Bedier harkens back to the earliest days of the Web when the discussion focused on whether it could progress beyond brochure-ware, pretty pictures and animated gifs. Most were unsure, but in the latter half of the 90's e-commerce was born and early payment gateways emerged. Fast-forward fifteen years and Goldman Sachs reports the global e-commerce market approaching $700 billion with 30% coming from the U.S.
Still, while impressive, e-commerce only accounts for 8% of total commerce in the U.S. and a meager 2% globally.
Is Google really that important in the physical world? So much so that leaders from the largest communications and payment companies would treat Google's payment guru like a celebrity?
Perhaps the real power of Google lies not in what it 'sells online' but in what it 'sells.' A Pew Research Center study found that 60% of consumers research at least some purchases online before they go to the physical world to buy.
If this is true, Google is a big fish in a proportionately small e-commerce pond, but it is also a big fish in the huge physical commerce pond.
Think of it another way. If the Web influences the purchasing decisions of six out of 10 consumers, Google likely plays to some degree in five of ten consumer's buying patterns. If the company could add the actual payment to their payment influence, you'd have an evolution and revolution.
Not without critics
While the U.K. audience applauds Bedier's presentation, most would rather he'd just go away.
It is reminiscent of the mid-90s in the smart card industry when Microsoft decided to throw its hat into the smart card operating system battle. In the early years, the OS was proprietary to the card manufacturer. Gemplus had PCOS. Schlumberger had OPUS. A drive for cross-manufacturer, standardized options was underway with MULTOS and Java Card emerging.
Then came the announcement from Redmond that Microsoft planned to do for the smart card what it had done for the personal computer. Again a rock star was born as the Microsoft exec made the rounds promoting the initiative. Industry leaders lined up to praise him, but most secretly celebrated his exit when Microsoft abandoned the product.
But why now for Google Wallet?
'Now' sees the convergence of three massive, society-altering trends that are reshaping modern markets. Mobile, local, and social. These three qualities are the very definition of ultra-modern society. And while these concepts are not unique to Bedier and Google, they fit them like a perfectly tuned search algorithm.
Mobile:
The world is mobile and Google is in an ideal situation to see this. Their fastest growing area of the core search business is mobile search. Their mobile operating system, Android, has literally exploded taking the leadership position in market share in just three years. During a recent earnings call, Google CEO Larry Page reported that 550,000 new Android-enabled devices are activated every day.
Local:
Check-in services are the new norm for tens of millions of avid users and virtually all sophisticated apps now include some level of location-based functionality.
Social:
Research suggests that individuals are twenty times more likely to consummate a purchase if friends have recommended the product. The definition of the modern Web is its interconnectedness, its social-ness.
So these overriding trends–mobile, local, social–fit right into Google's sweet spot. This, explains Bedier, is why the time is right for Google and NFC.
Consumers don't intellectually separate commerce from e-commerce any longer, but the payment industry still segregates the channels offering different products and complicating the consumer experience.
Bedier stresses that to be successful in the modern market, a company needs to serve customers seamlessly online and in person. "Groupon has done a great job of crossing the Web and local worlds," he says, "connecting the dots through payments."
Groupon enables local, non-internet businesses to cross the digital divide and bring consumers from the virtual world to the physical shop. It is a case study in how Web search, marketing and couponing can impact totally offline businesses.
What is Google offering?
Google Wallet
There have been numerous approaches and technologies around the rather ubiquitous concept of the mobile wallet. But when it comes to actually making the handset function as a wallet, Google likes near field communications. "We bet big on NFC phones," explains Bedier. "We believe it is at the very early days of its evolution."
Mobile payment is just one application in a mobile wallet, but it is a crucial one. Initially, Google will support two payment types with Wallet–its own prepaid card and Citi-issued MasterCard credit cards that support PayPass contactless technology.
"We started with our own Google Card so every phone would have a payment instrument," says Bedier. The Google Prepaid Card is purely virtual MasterCard product, so no physical card is issued. It is powered by Money Network from First Data and issued ultimately by Metabank. The account is FDIC-insured and funds can be added using any existing credit card.
The Citi tie-in enables cardholders to have their Citi MasterCard credit card added to the Google Wallet assuming the account is eligible for PayPass. Though Citi is billed as the "lead bank" for the launch, all outward indications from Google suggest that other issuers will be welcomed. "We feel every card should be in that wallet," says Bedier.
Google Offers
What is a wallet without coupons and loyalty cards? This may be where Google brings a unique benefit, perhaps even the so-called killer application, to the mobile wallet. What will Google Offers offer?
Daily deals that leverage the handset for distribution rather than relying solely on email like prior Groupon-style offerings.
Location-based, check-in promotions enable users to tap on arrival and start an in-store dialog with merchants.
Place-centric offers driven via search enable special deals to influence consumer choice.
Merchant loyalty and rewards.
In the near term, the functionality will require manual input or barcode scanning at most merchant locations. As merchants modify their point of sale infrastructure to support it in an integrated manner, NFC data will replace keystrokes, visual inspection and barcodes.
Single Tap experience
Ultimately, the seamless integration of payments, coupons, loyalty and marketing promotions is the goal. With Single Tap, Google hopes to integrate these functions together such that a single tap at the point-of-sale consummates the range of services, vastly improving the customer experience.
"Goodbye Wallet. The phone will take it from here."
That was the concluding tagline from the not-surprisingly polished video Bedier showed the European bankers. It was a typical day-in-the-life piece in which a group of individuals interacted with the new functionality in compelling ways.
"I believe we are on the verge of changing more than a century of payment and shopping behavior," he says.
Comments like this had to leave some of the more cynical in the bunch mentally altering the video tagline, substituting 'Bank' for 'Wallet' and 'Google' for 'phone.' "Goodbye Bank. Google will take if from here."
But he seemed genuinely excited and desirous of collaboration. "This is an open invitation for you to partner with us to create an ecosystem that benefits consumers and merchants," he said. "Open is who we are at Google."
The invitation worked. People line up to slip a business card into his hand. Whether they are attracted by the opportunity to share in the creation of an ecosystem or by his casual comment about "leveraging the 600 million active consumers" is tough to say.
Open, free and experience
I watched a film on the Documentary Channel called Festival Express that chronicled a series of rock festivals held across Canada in the summer of 1969. It was less about the concerts than the train trip as Janis Joplin, the Grateful Dead, the Band and dozens of other 60s rock groups bounced from cabin to cabin talking and playing music.
The terms open, free and experience were used only slightly more on that train than in the Google Wallet presentation.
Perhaps the biggest gasp in the room occurred when someone challenged Bedier's passing comment that this all would be free. He took a bit more time explaining that indeed Google did not intend to charge users or merchants for payment transactions or the Google Offers functionality.
Could this be real? Payments without fees? Well kind of. Google has stated it will not charge additional fees, but merchants will still pay the same transaction fees that would be incurred for other card-based payments.
Merchants with PayPass-capable point of sale terminals should be ready to accept Wallet payment transactions out of the gate, but the integrated functionality of Offers and Single Tap will require specialized software and perhaps hardware. It is not yet clear what charges will be applicable for such upgrades.
Google has also stated it does not intend to charge consumers for the Wallet application, and it is foregoing load fees for the Google Prepaid Card at least until the end of 2011.
Bedier stresses that the wallet would be open and that a user woill be able to add all cards of his or her choosing in the same way they do with a leather wallet. Of course, as other cards are added those issuers and the payment networks would access their normal fees.
Though it is unclear what will be required for issuers to have their payment cards included, supporting contactless payments is a likely first step. Banks that already issue PayPass cards will almost certainly have a leg up when considering, or being considered, for Google Wallet.
Bedier describes free 'Object Issuing APIs' to enable anyone to create wallet objects and he stresses that they have no plans to charge for space on the secure element. 'Offer Clipping APIs' will enable any merchant to create coupons and customer loyalty campaigns at no cost.
A business model hiding in there somewhere
Though Google may be the only company in the world that could actually afford to do this and not make money, there has to be a business model hidden behind all that free and open.
Is it the land grab mentality from the early dotcom era? Get the customers hooked and figure out how to monetize them later?
Or is it tied to the company's core ad business? Bedier says this is certainly a big part of the opportunity, providing a way for the company to extend its online and search-enabled ads into the new world dominated by mobile, local and social.
But to Bedier it is not being in both the online and physical worlds that is key. It is moving seamlessly, stealthily between the two … in and out as if there were no separation. Where Groupon connected the dots between physical and online, Bedier wants to erase the dots.
He talks about the future retail experience like a kid describing a new game console. Imagine when any offer you see online can be instantly added to your phone with a quick tap. If you choose, these offers can even be pushed to you based on your preferences and current location. Enter your local grocery store and receive a reminder of your frequently purchased items, your shopping list and a series of special offers on items you might enjoy.
He says that eventually the actual items will be tagged with NFC chips rather than bar codes. Tap them as you fill your cart and then tap the phone on the payment terminal as you exit the store. No more lines.
Even in this idyllic discussion, he can't avoid one more inadvertent nose tweak to another audience subset. He circles back correcting himself, explaining that you won't even need to tap at the payment terminal because the phone will be the POS too.
"The consumer holds the payment tool and the terminal," he laughs. "POS today is an artifact of the old way. Smart phones are more capable."
The conference moderator reminds him, only half-jokingly, that a number of POS terminal manufacturers are also in the room.
He grins. "That comment wasn't for them."