Morehead State goes contactless with iCLASS and Odyssey PCS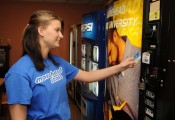 "Tap and go" is the new mantra for students, faculty and staff at Morehead State University in Kentucky, which has expanded its use of CBORD solutions with a large-scale implementation of iCLASS contactless card readers from HID Global.
A long-time user of contact chip and magnetic stripe technology for EagleCard applications, Morehead State recently upgraded to iCLASS contactless readers for its existing Odyssey PCS campus card system from CBORD. More than 220 iCLASS readers are in place across campus to manage purchases and privileges for access control, dining services, snack/beverage vending, copying and printing and laundry payment.
In addition to increased convenience for students and staff, the contactless readers can also produce revenue for the school. Vending sales were previously managed with a contact smart chip in the EagleCard, requiring students to maintain separate accounts for vending purchases. With iCLASS readers managing purchases across campus, the university now offers students a new multi-use account known as BeakerBucks, making it easy to spend and manage EagleCard funds. EagleCard-based vending sales have increased nearly 10% since the change was made.
"Morehead prides itself on being a high-tech institution, so contactless EagleCard solutions are well in line with the university's technological vision," says Bill Redwine, Morehead State's assistant vice president for Auxiliary Services. "Our administration sees real value in staying on the cutting edge of technology, whether it is through a card system, a laptop program, or a digital textbook. The use of iCLASS with Odyssey PCS is a great fit."
"Contactless campus card technology has been gaining momentum for years, but few universities have implemented it in as many areas of campus as Morehead State has done," says Cindy McCall, CBORD's vice president of marketing. "The combination of iCLASS's powerful authentication capabilities with Odyssey PCS's ease of management adds up to a solution that is good for students and a university's bottom line."
Adds Mark Doi, HID's director for education market strategies: "HID's iCLASS technology is ideal for campuses or any environment where users could benefit from a secure and convenient single card solution. This converged solution not only enables campuses to derive more value from their existing ID badges, but makes it possible to leverage their cards across a wide range of applications without the need to carry multiple cards or re-badge employees, staff, and students."