MorphoTrak buys tattoo matching technology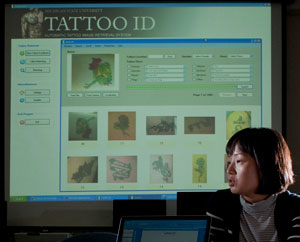 MorphoTrak (Safran Group) is pleased to announce the acquisition of a unique tattoo matching technology developed by Michigan State University. With this technology, the corrections and law enforcement community will now have the capability to accurately and efficiently search tattoo image databases to identify suspects, criminals and victims.
This content-based image retrieval and matching technology uses features such as color, shape, and texture present in tattoo images instead of labels or keywords, to compute the similarity between images.
According to a 2006 Pew Research Center survey, more than 36% of individuals between the ages of 18-40 have at least one tattoo. This proportion is much higher among criminals and members of criminal gangs. Consequently, federal, state and local law enforcement agencies have been collecting images of tattoos for many years. Although a tattoo alone cannot identify a person, this alternative trait provides valuable information that can help narrow the field and identify gang members.
A typical tattoo search today involves matching a text description of the tattoo making the process slow and inaccurate. With image-based tattoo matching, agencies will now have the ability to more fully exploit their large repositories of tattoo images for the identification of suspects and victims. Tattoos are particularly important for criminal identification as they often contain subtle clues to a suspect's background and history, such as gang membership, previous criminal convictions, claims of criminal activity and number of years spent in jail.