Motorola releases vehicle mounted RFID reader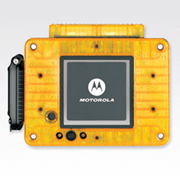 Motorola has released a new RFID reader designed specifically for installation on warehouse vehicles such as forklifts, trucks and mobile carts.
The RD5000 is composed of multiple components, including RFID reader, motion sensor, battery pack, Bluetooth, wireless LAN and antennae, all contained in a single, wireless compact unit.
Once installed on a vehicle, the RD5000 will automatically read any Gen2 RFID tag within range, making it suitable for asset tracking in warehouses and storage facilities.
The reader is now available to the Australian market after successful trials and live testing by Motorola partner company Peacock Bros.
Read more here