MSU professor a longtime researcher for biometrics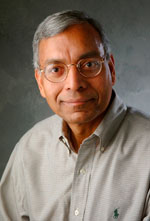 Longtime Michigan State University professor and researcher for the departments of Computer Science and Engineering and Electrical and Computer Engineering, Anil Jain, is also an accomplished expert in the field of biometrics having credits from both the National Institute of Justice and the FBI Biometric Center of Excellence among others.
While Jain frequently utilizes the television show CSI to help explain biometrics to one who is unaware of the technology, he also looks at what is capable on the show and is careful to point out that current technology is not as advanced or capable as it is portrayed.
Due to this, Jain and his research team work towards creating improvements on fingerprint-based biometrics with the hope of increasing accuracy of existent systems as well as their abilities to work with samples obtained from crime scenes more easily. It is this work that brought Jain national attention following the September 11 terrorist acts on the twin towers in New York where the federal government required his assistance in better utilizing fingerprint-based biometrics systems.
Read the full story here.