Multi-tech cards and readers for corporate & government IDs in '05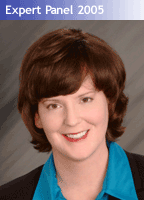 A panel of ID industry experts provided predictions for 2005. One of these glimpses into the future will appear here each day during December.
by Ann E. Johnson, Marketing Manager, Indala Corporation
Private-sector corporations and government institutions alike will continue to realize the advantages of improved convenience and security for employees and authorized visitors upon implementing multi-technology MIFARE smartcards and readers for multiple applications, including both physical and logical access, throughout their global corporate campus facilities.
Business and private-sector campuses historically often rely on distributing many cards for their employees and select vendors to gain physical access to their facilities, logical access to their PCs, access to a debit account for cashless vending in the company cafeteria, and entry to specific sections of a development lab or other higher-security areas of a facility.
Today, however, it is increasingly common for corporate as well as government work environments to deploy multi-technology MIFARE cards and readers for multiple applications, which reduces the number of cards to carry and increases the level of security provided by the single secure ID credential. The extra security layer provided by encryption of data on the MIFARE cards means more security for the organization, while multiple sectors allow more flexibility for the end user.
Corporate and government departments want better security, accountability, and convenience for their end users. What's more, they want it all on the same card—the secure ID credential. Just as the access control system became the foundation for security systems integration, the access control card is becoming the platform to securely identify a person to many other systems within the corporate and government campus environment.
About the author:
In addition to promoting Indala's extensive product line of low-cost, high-quality proximity cards, tags and readers, Ms. Johnson also serves as the Company's public relations contact.
---
Visit Indala on the web at www.indala.com.